Tonganoxie soccer eliminated
Chieftains fall, 4-0, to K.C. Christian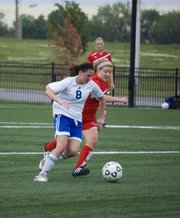 Overland Park — Tonganoxie High's girls soccer team stuck around for a while but couldn't find the back of the net to upset Kansas City Christian in a regional playoff match Thursday at Overland Park Soccer Complex.
The Panthers scored three second-half goals and ended the Chieftains' season by winning the Class 4-3-2-1A Northeast Regional No. 3 final, 4-0.
No. 6 seed THS (6-11) only trailed 1-0 at halftime but two K.C. Christian goals in the first six minutes of the second half helped the No. 3 seed get comfortable.
Both goals — one coming in the 42nd minute and the other in the 46th minute — flew off the powerful right boot of Panthers junior Maddie Brown. She gave KCC a 2-0 advantage with a quick turn and fire from roughly 25 yards out that headed with velocity to the bottom left corner of the goal and past diving THS goalkeeper Alex Bartels. The 3-0 goal, minutes later, was a nearly identical shot with the same result.
K.C. Christian (9-7) added another score in the 72nd minute after a cross took a bounce in the box and was put in via a header.
Tonganoxie was not without opportunities in the playoff loss. In just the second minute of action, freshman Emily Soetaert skipped a shot directly at Panthers goalkeeper Caroline Toler.
However, it wasn't until 14 minutes later that THS put another shot on goal. Senior Ashley Kotowske had an open look on the right side but her shot went about a yard wide right of the post.
In the 34th minute, Soetaert had a shot from near the right corner but it was handled by Toler.
One of Tonganoxie's best looks of the night came less than a minute after KCC took a 2-0 lead. Soetaert, in the midst of a crowded box, had a point-blank shot that Toler pulled in.
Down, 3-0, Kotowske directed the ball up the right sideline in the 49th minute and fired but saw the attempt sail a couple yards wide.
With the Panthers up 4-0 with less than four minutes left on the clock, the lights at the field went out, causing a delay of close to 20 minutes. After the match finally rebooted, Carson Simmons sent a corner kick into the box and Madison Simmons fired a shot high in the 78th minute.
The victory advanced the Panthers on to the state quarterfinal round.