Tonganoxie golf finishes No. 2 at state
Campbell, Hall give Chieftains much-needed boost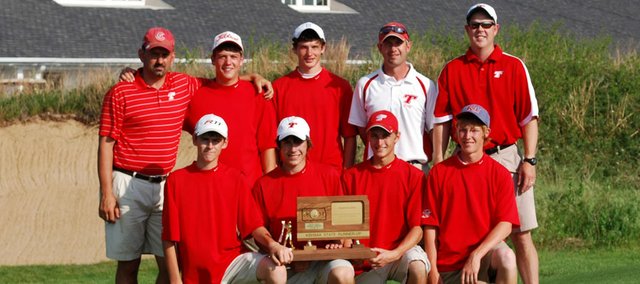 Photo Gallery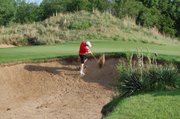 THS golf takes 2nd place at state
The Tonganoxie High golf team won its first state trophy Monday at Prairie Dunes Country Club with a second-place finish at the Class 4A state tournament.
NO. 2 IN THE STATE
The Tonganoxie High golf program secured its first state trophy with a four-player score of 332 Monday at the Class 4A championship at Prairie Dunes Country Club in Hutchinson, where Colby Yates finished fourth.
Tonganoxie scores
Colby Yates, 74
Kody Campbell, 85
Tyler Hall, 85
Drew Sandburg, 88
Tanner Hale, 90
Aaron Williams, 95
Golf might very well be a game in which the greatest individual garners the glory and accolades, but on Monday at the Class 4A state tournament in Hutchinson, Tonganoxie High learned just how valuable each member of its team could be.
Riding on the strength of a pair of low scores from unexpected sources at Prairie Dunes Country Club, the Chieftains finished 2011 as the second-best team in the state.
Junior Colby Yates' fourth-place score of 74 led THS, but an 85 from both its No. 5 and No. 6 golfers salvaged the team score, bringing it down to 332 — two strokes ahead of third-place Wellington and 11 strokes behind state champion Topeka-Hayden.
Both junior Kody Campbell and sophomore Tyler Hall, who have been at the bottom of the Tonganoxie golf totem pole this season, had what Chieftains coach Jared Jackson called "the round of their lives" on the biggest stage of the year.
Watching the final scores being posted Monday afternoon, Jackson said the first two off the course for Tonganoxie were the team's No. 2 and No. 3 golfers, junior Tanner Hale and sophomore Aaron Williams. With Hale at 90 and Williams at 95, the coach said their scores came in higher than expected. Freshman Drew Sandburg came in with a solid score of 88, but it looked as if THS, which finished fourth at state in 2010, didn't have a very good shot of bringing home a state trophy with a top-three finish in the team standings.
Campbell said he didn't think his score would be so important.
"I'm happy I could come in with a low score," he said, "and help the team get second place."
Jackson said golf is, in fact, a team game — noting Tonganoxie wouldn't have qualified for state without quality rounds from Hale and Williams at the regional tournament — and the ability of Campbell and Hall to shoot 85 is what allowed the Chieftains to finish second at state.
"One through six have to all be ready to contribute," the coach said.
As much as Jackson trusted his team, he admitted he hadn't expected Hall, a sophomore with no previous state experience, to post such a low score — especially considering his average had hovered near 100 this year and he had just come off a 101 at a regional tournament one week earlier. Hall's previous best score this year was a 91 and he beat that by six strokes at one of the toughest courses in Kansas, thanks in large part to a chip-in birdie on his 17th hole (hole No. 8, rated the toughest on the course) and a par on his final hole of the day.
"I don't know where you scale unexpected but it was pretty high," Jackson said of Hall's round.
When Hall finally finished his round (he was in the second to last group to tee off), he said his whole team came up to congratulate him and it was readily clear his score had surprised everyone.
"My parents are going psycho because I shot an 85," he said of the scene.
Though Campbell hadn't typically been finishing with one of the top scores for the Chieftains, Jackson said he wasn't as surprised when the junior, who played at state last year, finished at 85.
"Kody's been striking the ball like a No. 2 for the past two weeks," Jackson said. "He finally avoided the high number."
Yates, who had practiced alongside Campbell of late, said he thought his teammate was capable of having a good round at state.
"He's been hitting it great," Yates said. "It was just a matter of time before he broke out."
Jackson said part of what helped Hall and Campbell was the relative lack of fanfare and expectations surrounding the groups in which they played, and the golfers agreed.
Said Hall: "I'm the sixth man. I'm thinking one through five is gonna score low. I don't have to worry about my score. I just need to go out and play."
Added Campbell: "Going in, I really don't, playing as the five man, have too much pressure."
Yates finishes 4th
Though Tonganoxie made just its second state appearance as a team on Monday, the tournament marked Yates' third straight trip to the 4A championship.
After finishing second at state as a sophomore, the junior said he was hoping for a better showing.
"My goal was to win it," Yates said. "At first, I stumbled and I knew if I kept stumbling I was gonna throw my whole round away."
Jackson said Yates struck the ball well on the front but had a couple of off holes, including a double on the sixth, before a double-bogey on the 10th put him at plus-5 on the day. Even then, the coach thought the Chieftains' top golfer could finish strong.
"He's pretty darn stubborn and he's not gonna let that score slip," Jackson said.
The coach was right. Yates went 1-under on the final eight holes with the help of a birdie on the 14th. The junior said he knew the back nine holes were easier than the front and he was determined not to let his emotions overcome him.
"I was able to get the par train going and get that birdie in there," he said.
Prairie Dunes had a lot of tall grass, Yates said, but it wasn't extremely tight, so he thought putting would make a difference for him, because the greens were unique. Making some good putts, he said, led to his fourth-place finish.
"I had a better feel today," he said.
2nd-place trophy
Yates said last year's fourth-place finish for THS at state gave the team higher expectations this year.
Jackson said they didn't spend a lot of time talking about winning a trophy but the second-place finish was a new milestone for the program and this year's golfers.
"It's just an amazing step. They proved it on a tough course and no one can take it away," the coach said.
It was a memorable day for everyone involved, Hall said.
"I'm proud of myself and the coaches and the teammates I've got," the sophomore said, "because they're standing right behind me holding me up."
Class 4A State Golf
Monday at Prairie Dunes Country Club, Hutchinson
Team scores: 1. Topeka-Hayden, 321; 2. Tonganoxie, 332; 3. Wellingotn, 334; 4. Independence, 336; 5. Piper, 345; 6. Ulysses, 346; tie-7. Hesston, 354; tie-7. Holton, 354; tie-7. Ottawa, 354; 10. Coffeyville, 355; 11. Buehler, 364; 12. Chanute, 370.
THS results: 4. Colby Yates, 74; Kody Campbell, 85; Tyler Hall, 85; Drew Sandburg, 88; Tanner Hale, 90; Aaron Williams, 95.