City council increases permit fee for fireworks stands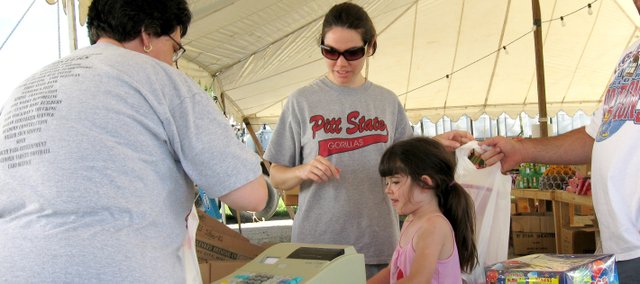 It will cost owners of fireworks stands more money to do business in Tonganoxie this year.
On Monday, the Tonganoxie City Council approved increasing the permit fee for fireworks stands from $300 to $500. Tonganoxie City Administrator Mike Yanez said the fee was justified to offset the expense of fire and police department personnel inspecting stands.
The measure the council approved will also require stand owners to have a state sales tax permit, proof the owner paid sales tax on fireworks sold last year in the city or — if it's the stand's first year — a certificate showing the owner is in good standing with the Kansas Department of Revenue.
The ordinance was approved 3-1 with Councilman Chris Donnelly voting no (Councilman Jim Truesdell was absent).
Donnelly's objection was not of the increased fee or the sales tax provisions but the decision to apply the increase to both profit and nonprofit groups. He voted against the ordinance despite other council members' assurances they would listen to requests from non-profit groups to waive the permit fee.
But those same council members said they didn't want to waive the fee for nonprofit groups who contracted the running of stands to outside for-profit management businesses.
"I think Tonganoxie is all about rewarding hard work," Councilman Dennis Bixby said.
Donnelly said he voted no because he knew from experience the work volunteers put into fireworks stands and didn't want to discourage organizations from using outside management to help them raise money.
In other business, the council:
• Approved a $2,500 contract with Wald & Co. All American Display Fireworks to provide a fireworks display June 11 or the night of Tonganoxie Days. The contract requires the city to pay 20 percent of the contract sum if the show is postponed and not rescheduled within 180 days.
• Scheduled a joint work session with the Tonganoxie Planning Commission for 7 p.m. June 2 to discuss implementation strategies and priorities for the city's comprehensive plan.
• Agreed to instruct Police Chief Jeff Brandau and Fire Chief Dave Bennett to look at the closed Meadows Construction shop and yard as a possible home for a new fire/police station. The council agreed earlier this month to table action on purchasing a 10,800–square-foot building in the Urban Hess Industrial Park for $582,000 for use as a joint station.
• Rezoned properties on Front Street and Shoemaker Way — including Tongaridge, G&P Country Market and Polley's Liquor Store and Sutton-Kolman Auto/Eastside Auto Parts — from a moderate industrial to general business district classification.