KCC

knocks out Tonganoxie soccer in regional final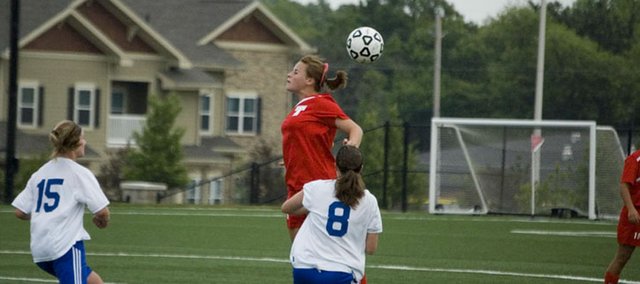 Photo Gallery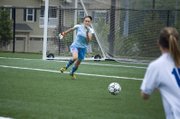 Chieftains soccer falls, 4-0, in playoffs
The Tonganoxie High girls soccer team lost, 4-0, to Kansas City Christian Thursday at Overland Park Soccer Complex in the Class 4-3-2-1A Northeast Regional No. 3 title game.
Overland Park — Tonganoxie High girls soccer coach Justin Seever hadn't planned to talk to his players about their season ending on Thursday night.
In his head, the first-year coach had prepared a speech to celebrate a regional playoff victory.
It was an address that no one got to hear, however, as the Chieftains' season came to a close with a 4-0 loss to Kansas City Christian in the Class 4-3-2-1A Northeast Regional No. 3 final at Overland Park Soccer Complex.
Seever said he hadn't practiced a "we lost" speech, but that is what he had to give after the No. 3 seed Panthers scored three second-half goals to pull away from No. 6 seed THS (6-11) and advance to the state quarterfinals.
KCC led, 1-0, at halftime after scoring a header on a rebound in the 23rd minute. Seever thought Tonganoxie would be able to recover after the team's defenders and goalkeeper Alex Bartels kept the Panthers from adding to their first-half lead.
"I thought we were up to it, mentally," the coach said of a possible second-half comeback.
However, the THS defense had trouble clearing the ball a couple of times early in the second half and KCC junior Maddie Brown took advantage, scoring on almost identical shots from more than 20 yards out in the 42nd and 48th minutes.
"That second one just kind of kills," Seever said, noting that Brown converted two difficult attempts.
K.C. Christian didn't score again until the 72nd minute, but with Tonganoxie unable to capitalize on its few second-half chances, the damage had been done.
Despite being shut out in the season finale, Seever thought THS outplayed the Panthers (9-7) in the first half, when freshman Emily Soetaert had two good looks at the goal and senior Ashley Kotowske put another shot up.
"We were dangerous," Seever said. "We had two or three times where we looked to cross the ball. One the goalie ate up, one hit the side net, one we just didn't get a body on them. We were there."
Senior Chieftains defender Grae Wilbanks said part of their problem was a lack of quality first touches.
"I think that slowed us down a little bit," Wilbanks said, "but for the most part I felt like in the first half we were just right back at them and didn't give up anything. We tried our best."
Bartels agreed that THS came out strong in the first half but said the second half was at times difficult to watch.
"We just made some mistakes," Bartels said. "We're a young team. That's gonna happen. We had good effort and I'm proud of what we did."
With less than four minutes left on the clock, the playoff match came to an unexpected halt when the field's lights went off, causing a delay of close to 20 minutes. Seever said he used the break to implore his team to end the match with a high level of play.
"We came out flying and we had another good chance," Seever said.
Perhaps Tonganoxie's best scoring opportunity of the evening came in the 78th minute when senior Carson Simmons' corner kick from the left side went into the box and freshman Madison Simmons knocked a shot high over the crossbar.
Seever was proud to see his team keep after it while trailing by four goals.
"We were plugging away. We were trying to score," the coach said. "We don't have any quit in us. It's something to hang your hat on moving forward."
At the very least, the players and coaches were happy to have earned one playoff victory this season with a 10-0 first-round win against Bishop Ward on May 17. THS hadn't won a playoff match since 2008, the freshman year for this season's senior class.
"We would have loved to send them off with a regional championship," Seever said, "but it just wasn't our day."
The coach thought his farewell speech to the team would come at a later date. Instead, Seever told the players Thursday what he thought about this year's squad.
"It sounds cliché," he admitted, "but I told them I wouldn't trade them for any group of girls we played against."