Seniors lead McLouth back to state tournament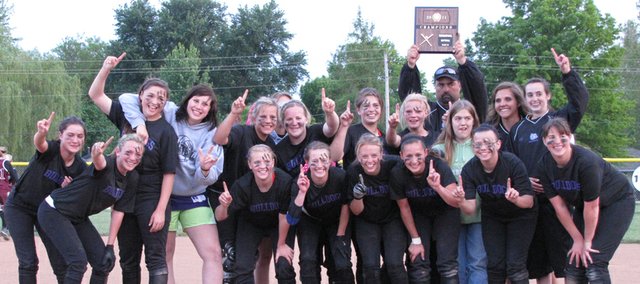 BULLDOGS RALLY
McLouth High softball fans will have the chance at 7 p.m. Wednesday to see the Bulldogs at a pep rally before the team heads to Manhattan for the state tournament. The rally will take place on Union Street, at the park near the post office.
MANHATTAN PROJECT
The last time McLouth High's softball team went to the Class 3A state tournament in Manhattan, the Bulldogs went 2-1 and finished third in 2008.
McLouth's '08 state results
1st round: beat Herington/White City, 1-0
Semifinal: lost to Thomas Moore Prep, 5-0
3rd-place game: beat Riverton, 1-0
For the seniors on McLouth High's softball team, regional championship games are as routine as a lazy fly ball.
The Bulldogs' four-year veterans, Kaley Patterson, Kaitlyn Sparks and Jessie Troupe, don't know what it's like to fall short of a Class 3A regional title game. What they do know is the pain that comes with a loss on that stage — MHS was knocked out of the postseason with title-game losses in 2009 and 2010.
Their freshman year was the last time McLouth advanced out of a regional tournament victorious. And that is why one six-letter word was used multiple times to describe their feelings as they watched the final out recorded in a 3-2 championship-game victory May 17 at Silver Lake.
That word: Relief.
A four-year starter, the No. 1 pitcher and the daughter of Bulldogs coach Ballard Patterson, Kaley was the first to throw out the term while discussing how she felt as she watched second baseman Alex Adams flip the ball to first for the final out against SLHS.
"It was just slow motion for me," Kaley said. "She kind of bobbled it at first and then she went over and once I saw that she had the play, the weight of the world just came off my shoulders."
Sparks used the R-word, as well, saying the relief felt by her and her teammates, who all season long had talked about the goal of getting back to the state tournament for the first time since 2008, led to tears of joy.
"Everyone was so excited," Sparks related. "We started crying as soon as we found out (McLouth won). If someone had shown up as soon as the game ended, they probably would've thought we lost."
Troupe said a return trip to state was one of two motivating forces in the Bulldogs' regional championship win.
"It was a pretty big driving factor, because we've been wanting it for four years," she said, "and last year we lost on that walk-off home run (at home in a regional final against St. Marys)."
Both the desire and leadership of McLouth's seniors, Ballard said, made a 2011 state berth possible. Not only do the team's most experienced players have a "killer instinct" about them, the coach said, but they also had a calming effect in the win at Silver Lake.
"This is a gritty group of seniors," Ballard said. "I don't have to get them psyched up. I don't have to spend a lot of time talking them into being great."
Both Kaley and Troupe started on McLouth's third-place state team in '08. Though Sparks just served as a courtesy or pinch runner as a freshman, the senior trio has so much experience, the coach added, that they can keep their cool, even in a dramatic, high-stakes game.
"Every game is another ball game, every pitch is another pitch," Ballard said of their approach.
That doesn't mean the Bulldogs (20-3) are feeling nonchalant, though, about their upcoming first-round game at state — 7 p.m. Friday against Larned at Twin Oaks Softball Complex in Manhattan. Troupe said there is a great feeling of anticipation for the seniors and throughout the town of McLouth.
"We feel like it's kind of riding on us and we've got to keep everybody under control and focused," Troupe said. "Everything's gonna blow up (this) week. There's gonna be pep rallies and the town is wanting to talk to us and all this stuff, so it's a lot of pressure and events that could be distracting."
Deep squad
Going to state will be a first for the majority of the team. MHS juniors Kelsey Campbell, Kendra Leach, Kelsey Mills, Katrina Thummel and Emily Welsh, sophomores Adams, Marrisa Raya and Taylor Pope and freshman Konner Patterson will make their state debuts this weekend and each one of them, Ballard said, has helped make this the deepest Bulldogs roster in his six years at the helm.
"From top to bottom, this is the best team I've ever had," Ballard said, noting he has started 13 different players this season.
One crucial addition to the team, Sparks said, was junior shortstop and No. 2 pitcher Leach, who transferred to McLouth from Pleasant Ridge. After Kaley pitched both games of most doubleheaders last season, McLouth now has another reliable starter, the senior center fielder said, adding that Leach is "great" offensively as well.
"Kendra came in and shocked everyone," Sparks said.
Though new to the program, Leach said she couldn't feel more at home at MHS.
"I like it so much better. There's a bunch of great people here," Leach said, "and I love my softball team."
Chasing a title
McLouth enters the state tournament as the No. 3 seed and just three wins away from a state championship.
Troupe said the Bulldogs, who will meet No. 6 seed Larned in the first round Friday, want to win it all.
"I think we have a pretty good chance," she said. "I really think we can do it as long as everyone's on their A-game and we stay focused."
MHS, she added, will need to play with the same intensity it utilized in its victory at Silver Lake, a perennial 3A power, and she said that experience would do nothing but help McLouth.
Ballard said the state title is up for grabs and the Bulldogs could just as easily win it or get bounced in the first round. Strong pitching, he predicted, will be a difference-maker.
"I feel like if I put my best nine out there, we're gonna hit, we're gonna score some runs," the coach said.