THS

softball season ends with 1-run loss in regional final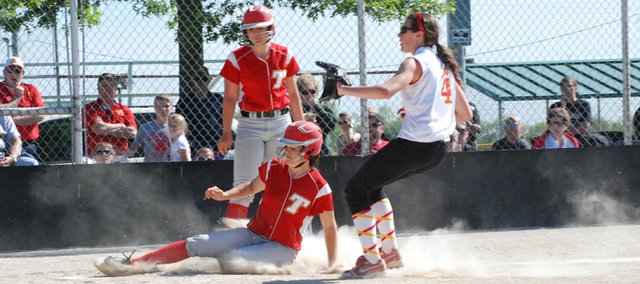 Photo Gallery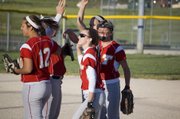 Tonganoxie softball goes 2-1 at regional
The Tonganoxie High softball team won its first two games at a Class 4A regional tournament at Field of Dreams on May 16-17 before losing, 2-1, to Basehor-Linwood in the title game.
An unwanted, hurtful result put Tonganoxie High's softball season to rest on May 17 at Field of Dreams in Kansas City, Kan.
The Chieftains had advanced all the way to a regional championship game and lost by the slimmest of margins, 2-1, to defending Class 4A state champion Basehor-Linwood.
Considering what a win would have meant — a THS trip to state for the first time since 2006 — and the victors — the rival Bobcats — Tonganoxie coach Lee Matzeder said it was a highly undesirable scenario.
"Anytime your season ends and you're not going to state, it's not good," the coach said.
However, the fact that THS was so competitive against the 2010 champs, Matzeder said, was important.
"We played them good," he said. "We had no errors. We played great ball except for the fact we only had three hits."
One of those hits was a solo home run by senior Tiffany Jacobs in the second inning and it gave Tonganoxie a brief 1-0 advantage. The only other hits against BLHS ace Brooke Redmond came from Haley Smith and Makayla Leslie, so there weren't a lot of quality scoring chances.
Though the offense struggled, Matzeder noted the defense and pitching were championship quality. Jacobs, who threw all 20 innings for Tonganoxie in the three-game regional tournament, scattered seven hits, gave up two earned runs, walked two and struck out three. The second-year THS coach said Jacobs facilitated the team's run at a regional title.
"It wouldn't have happened without her. She's the workhorse, man," Matzeder said. "She stepped up and took the bull by the horns, showed leadership."
Between an 8-1 semifinal win against No. 1 seed Atchison and the one-run loss to No. 2 seed BLHS, Jacobs only gave up three earned runs on May 17.
"I'm gonna miss her next year," Matzeder said. "She left it all out on the field."
Obviously, the players were saddened by the loss in the regional title game and many cried afterward, but their coach said he was proud of them and they should be proud of themselves, too.
"It's hard," he said. "It's sad but I wasn't disappointed because I felt we played great."
The coach also was encouraged by the team's improvement this season. By finishing as a regional runner-up, Tonganoxie (11-11), Matzeder said, proved just how good it was.
"We're better than last year's team," the coach said, noting THS improved its batting average by 28 points (up to .305) this year and scored seven runs a game after averaging four a game in 2010. "We swung our bats better, it just didn't happen in that one game (the regional final)."
THS rallies to knock out No. 1 seed Atchison
The Chieftains were down, 1-0, after five innings in a regional semifinal against Atchison before the offense exploded in the final two frames.
Tonganoxie tied the game at 1 in the top of the sixth when Marrissa Martin reached on an error, moved to second on a sacrifice bunt by Kailan Kuzmic and scored on a Kaitlyn Wolken double.
In the top of the seventh, with the game tied at 1-1, the Chieftains put together a rally to knock off the tournament's No. 1 seed.
Lainey Walker was up with no outs and two runners in scoring position, so AHS wanted to walk her to load the bases. However, with a 2-0 count, Walker nailed a lob over the plate and an ensuing error at shortstop allowed Maggie Gripka and Amanda Holroyd to score.
Later, Morgan Oroke improved the THS lead to 4-1 with a bloop single to left field. Wolken drove in two more with a double and both Oroke and Wolken went on to score on passed balls to put THS ahead, 8-1.
Wolken went 2-for-4 with a pair of doubles and three RBI in the semifinal win and Holroyd finished 2-for-4 with a double.