Top 10: Tonganoxie athletes secure spots at state meet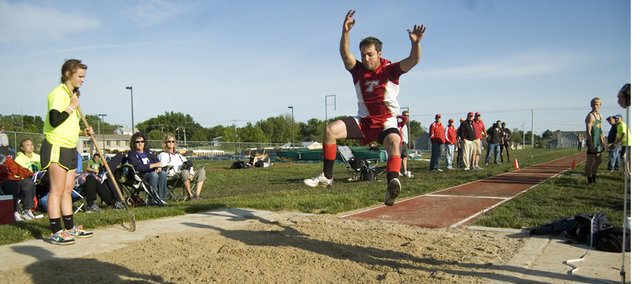 Photo Gallery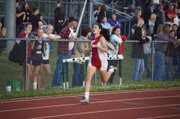 Tonganoxie competes at track regional
The Tonganoxie High track team qualified 10 athletes for state Friday at a Class 4A regional meet at Basehor-Linwood.
Basehor — For an afternoon that started off cloudy and cool with a chance of rain, Friday turned out to be pretty enjoyable for 10 Tonganoxie High track athletes Friday at a Class 4A regional meet.
Six Chieftains won regional championships and four others qualified for state with top-four finishes at Basehor-Linwood.
Lucas Ahart, Haley Griffin, Domino Grizzle, Dannie Oelschlaeger, Dylan Jacobs, Cristina Rubio, Dylan Scates, Jenny Whitledge, Adrian Whittington and Jake Willis reserved their spots at the state meet in Wichita this coming weekend with strong performances at the regional meet.
Ahart (javelin), Grizzle (shot put), Scates (triple jump), Whitledge (high jump), Whittington (high jump) and Willis (pole vault) won regional titles with first-place finishes.
The results were pretty remarkable for a couple of THS regional champs. A senior thrower, Ahart earned the very first first-place finish of his career Friday. Conditions were far from ideal early in the afternoon, with a muddy runway, wind and cooler temperatures before the clouds cleared.
"I'm not gonna complain," Ahart said. "I was just hoping to go to state. I wasn't expecting to win regionals."
Only a few feet separated Ahart's winning throw of 161 feet, 9 inches from the fourth-place throw. Ahart won the title on his last attempt, which he wasn't expecting.
"I didn't think it went that far," he said. "I was so surprised."
Willis, on the other hand, was just happy to be upright and functioning. The senior vaulter, who has gone to state each of the past three years, became ill the day before the regional. He was feeling so sick during the competition that, early on, he had to go away from the event to vomit. His illness, Willis said, proved taxing as he worked his way to his third regional pole vault championship.
"It definitely showed on my run," Willis said, "but I just wanted to be regional champ again."
For other THS athletes, winning a regional crown wasn't quite so dramatic. Girls track coach Chris Weller, for instance, said he almost has come to expect first-place finishes out of Grizzle, who also qualified for state with a third-place finish in discus.
"She just every track meet seems to come through and score a bunch of points," Weller said.
That's something Whitledge did at the regional, too, with her high jump championship, second-place finish in long jump and third-best time in the 300-meter hurdles.
"She stands a great shot of scoring some points at state and the possibility of winning a state championship," Weller predicted, "and she's a sophomore to boot."
Like Grizzle and Whitledge, jumpers Scates and Whittington had state-qualifying marks in multiple events at the regional. Scates will be competing at Wichita in triple jump and long jump, while Whittington will pull double duty with the triple jump and high jump. Both Jacobs and Whittington will be making their second straight state high jump appearance.
Tonganoxie boys track coach Phil Williams said his team's jumpers have a chance to finish in the top seven at state.
"Our jumpers have a good chance to medal this week, but there is lots of competition," Williams said. "Dylan Scates has a chance to be in the top five in the triple jump or higher if he has a good day. The same with Adrian Whittington in the high jump — and possibly the triple jump."
Weller said he had hoped to get a few more athletes to advance to state but said he was pleased all three of the girls' seniors — Grizzle, Oelschlaeger (third, pole vault) and Rubio (fourth, 400-meter dash) — got to extend the season or one final week.
The jump coach also was excited to see a freshman, Griffin, take second place in the high jump. He said the key for Griffin was clearing 5 feet on her first attempt.
The state track meet begins Friday at Cessna Stadium in Wichita.
At press time, complete results from the Basehor-Linwood regional had not been made available. Places and times for other THS athletes will be posted at tonganoxiemirror.com when they are released.
Class 4A Regional Track
Friday at Basehor-Linwood
THS state qualifiers
Girls
High jump — 1. Jenny Whitledge, 5-4; 2. Haley Griffin, 5-0.
Long jump — 2. Jenny Whitledge, 17-0.25.
Discus — 3. Domino Grizzle, 113-1.
Shot put — 1. Domino Grizzle, 37-9.
Pole vault — 3. Dannie Oelschlaeger, 8-0.
300-meter hurdles — 3. Jenny Whitledge, 47.7.
400-meter dash — 4. Cristina Rubio, 1:01.99.
Boys
High jump — 1. Adrian Whittington, 6-4; 4. Dylan Jacobs, 5-8.
Long jump — 4. Dylan Scates, 20-8.
Triple jump — 1. Dylan Scates, 42-10.3; 2. Adrian Whittington, 42-9.75.
Javelin — 1. Lucas Ahart, 161-9.
Pole vault — 1. Jake Willis, 13-6.