Council sets condemnation hearings on 2 structures in Tonganoxie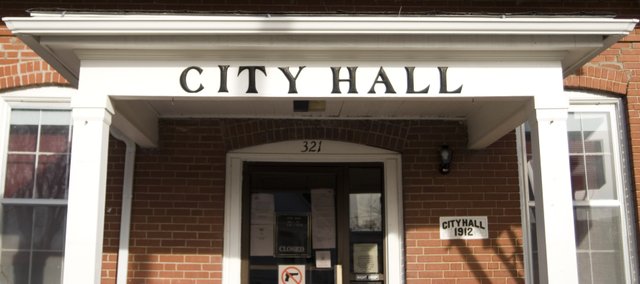 The city of Tonganoxie is taking further steps to condemn two structures, one of which once played a vital role in the local economy.
On Monday, the Tonganoxie City Council scheduled hearings for its June 13 meetings, at which the owners of the two structures must show cause the buildings shouldn't be condemned.
One of the buildings, the old creamery at 1000 E. First St., was once the Tonganoxie home of Franklin Ice Cream Company, where the milk produced on local farms was processed for shipment to the company's Kansas City, Mo., factory. But as was noted in a report included with a resolution scheduling the hearing on the structure's future, the building "has been abandoned for many years now and is falling into disrepair . . ." The report notes the roof has collapsed, pipes and debris are scattered about the interior and holes in exterior walls allow access to its interior.
The former creamery is now owned by Ersilio and Janet Depetre, who were sent notice March 2 they would have 45 days to address the problems with the building's exterior or 10 days to request a hearing with the council.
The Depetre family did not return a phone call from the Mirror about the property.
The second structure is a storefront with no legal address on State Avenue immediately south of the First State Bank and Trust. Its owner, Wanda Bjorgaard of Bonner Springs was informed March 30 a condemnation hearing would scheduled on the structure unless materials stored in the yard, including a recreation vehicle with out-of-date license plates, were removed and identified problems with the exterior were addressed.
At the council's May 9 meeting, a Bjorgaard family member requested an extension, saying more time was needed to remove some of the stored materials from the site before the structure could be taken down. The council turned down the request, noting the owner's poor history of compliance with city deadlines.
The owners of both structures have the right to appear at the June 13 hearings to show cause why the council shouldn't condemn the buildings and order their repair or demolition.
City Attorney Mike Kelly said the property owners could appeal any council decision on the properties to Leavenworth County District Court. However, he said they would have to act fast because a council decision would start the clock ticking on condemnation and the city would be free to take action, such as razing the structures, once the deadline expired. The cost of any corrective action would be charged to the property owners, he said.
Mayor Jason Ward said Monday's actions resulted from a city codes inspector knowing and doing his job. The city now employs Mark Lee one day a week to do building inspections and code enforcement. Lee works for Basehor in the same capacities the remaining four days of the week.