Flagging traffic near Tonganoxie
Motorcycling vets have Hogs, will honor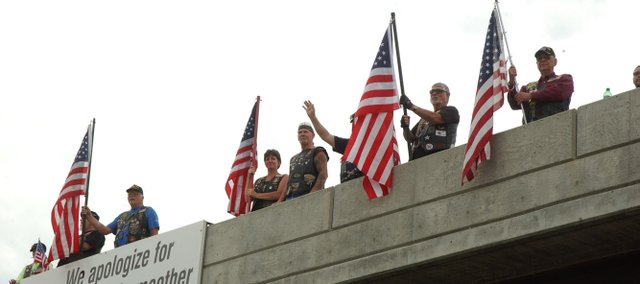 Although they assembled Monday atop the Interstate 70 overpass at Leavenworth County Road 1 to greet a specific group, the 15 members of the Tonganoxie American Legion Post 41 Riders nonetheless welcomed the frequent horn blasts from other motorists passing below.
"That's what it's all about, making sure people know the flag is still there," said the group's director, John Tillisch of McLouth.
That purpose might at first glance seem at odds with the riders' appearance. Dressed in black leather vests with names such as Big John or Hoghead stitched to the front, boots, bandanas and blue jeans, they could be mistaken for outlaw motorcycle gangs set on terrorizing local citizenry.
But any menace disappears with a closer look. The patch on the back of the vest is of the riders' American Legion post and the badges and other adornments on vests and hats identify the riders' participation in the post or group's activities.
Earning those decorations keeps the group members busy. Tillisch, who served in the Marine Corps from 1958 to 1961, estimated the riders make an average of two group rides a week to such events as funerals, homecomings for service personnel returning from overseas tours or local patriotic events.
"We keep busy," Tillisch said. "We go to all the funerals we're invited to. The last Thursday of every month, we ride to the National Cemetery at Fort Leavenworth to honor all the veterans who have died in the last month."
Some of the riders perform another funeral service, too, one represented with a badge of the name Phelps inside a red circle with slash. It is displayed on riders who served as Patriot Guards and helped shield loved ones at the funerals of those killed in action from the picketing of Westboro Baptist Church members.
"I tell them not to wear them," Tillisch said of the badges. "I don't like for their story to get out.
"I give them my opinion, but they're all veterans."
Monday's gathering was to greet a larger group of motorcyclists headed east on I-70 on its way to the annual Memorial Day Weekend Rolling Thunder Rally in Washington, D.C.
"There's going to be about 600 riders," Tillisch said. "We're up here to salute all the bikes as they go through. It's just a way to salute and remember the MIAs and POWs of the Vietnam War.
"It's a great day for a ride."
That's true of most days, said Richard Ogden, a group member from rural Lawrence.
"I've been riding since I was 16 when I got my first Harley," he said. "I try to make all the Patriot Guard things and all the funerals. It's a great feeling honoring vets. I wouldn't give it up for anything."
The riders develop camaraderie from their activities, said Randy Cornell of Denison. The activities have a greater sincerity and purpose than the Rolling Thunder Rally, which he attended while stationed near the nation's capital during his Coast Guard career.
"That's was just a big party," Cornell said. "This is more grassroots. "