Whitledge wins gold in high jump
Sophomore's state title highlights Tonganoxie's Friday at Wichita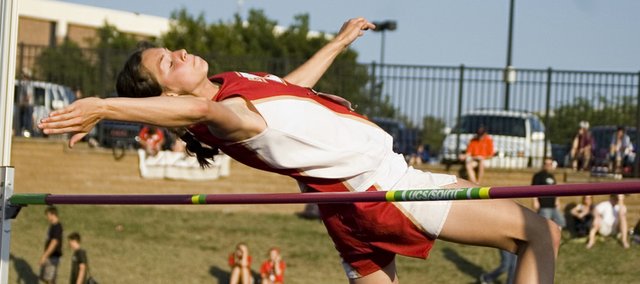 Wichita — Tonganoxie High sophomore Jenny Whitledge hoped to set a new school record in the girls high jump Friday at the state track meet with a leap of 5 feet, 6 inches.
She settled for 5-4 and a Class 4A state championship.
The spring in Whitledge's steps made her the only girl in the event to jump higher than 5-2 and once she won her title, she went after an even tougher height, 5-6.
"After I cleared 5-4, I definitely thought my adrenaline would take me over the bar," Whitledge said.
Though she didn't get to set a new THS record, the sophomore was plenty excited with her state title.
"I wanted to scream. I'm not kidding. It was an insane moment in your life," Whitledge said of finishing first. "It's the biggest meet you have and to know you just won it all and all your hard work has paid off...it makes me smile."
The Tonganoxie jumper was busy Friday afternoon at Cessna Stadium. Her itinerary began with long jump, and when she topped out at 15-10.25 and didn't make the finals, Whitledge was irked. She said she "had to take the anger out" on her run in the 300-meter hurdles and it must have worked — she set a THS record in the event with a sixth-place time of 47.05 and qualified for a Saturday final.
The sophomore is looking forward to that opportunity, as well as the chance to win another high jump crown or two.
"Hopefully I can defend it next year and the year after that," Whitledge said.
She wasn't the only Chieftains jumper to win a state medal Friday. Senior Adrian Whittington tied for fourth place in the high jump with a mark of 6-4 and senior Dylan Scates took seventh place in triple jump with 43-2.
Class 4A state track
Friday at Cessna Stadium, Wichita
Tonganoxie results
Girls
Long jump — 10. Jenny Whitledge, 15-10.25.
400-meter dash prelim — 10. Cristina Rubio, 1:01.87.
300-meter hurdles prelim — 6. Jenny Whitledge, 47.05.
High jump — 1. Jenny Whitledge, 5-4; 8. Haley Griffin, 4-10.
Boys
High jump — tie-4. Adrian Whittington, 6-4; 15. Dylan Jacobs, 5-8.
Triple jump — 7. Dylan Scates, 43-2; 13. Adrian Whittington, 41-0.25.
Pole vault — tie-9. Jake Willis, 13-0.