THS

track athletes win 4 state medals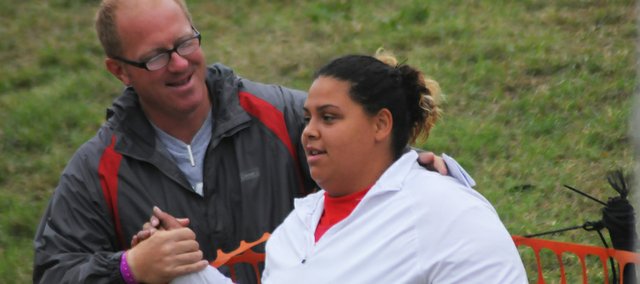 Photo Gallery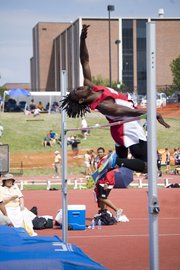 Chieftains chase medals at state track
The Tonganoxie High track season wrapped up this weekend at Wichita with 10 Chieftains competing at the state track meet.
Wichita — Led by a state champion and a silver medalist, Tonganoxie High track athletes claimed four medals this past weekend at the state meet.
Chieftains sophomore Jenny Whitledge won a Class 4A title in the high jump on Friday evening at Cessna Stadium and the next morning senior Domino Grizzle finished a little more than a foot behind the state-championship mark in shot put, taking second.
THS girls track coach Chris Weller said the weekend could have gone a little better, but it was hard to find a reason to complain.
"There's always those that you wish would do a little better," the coach said, "but having a state champ is special."
Coming into the meet, Weller said he had hoped THS could finish with one of the top 12 team scores and the Chieftains ultimately were 14th overall.
"We're pretty happy with it," he said.
The Tonganoxie boys team had two medalists of its own, with senior Adrian Whittington tying for fourth place in the high jump and senior Dylan Scates securing his second straight state medal in the triple jump with a seventh-place finish.
THS boys track coach Phil Williams said the team's trip to Wichita had a lot in common with the Chieftains' 2011 season.
"I was pleased, for the most part, with our weekend at state," the coach said. "It was pretty representative of our season — not everyone has their best day at the same time."
For Tonganoxie senior Jake Willis, Friday could not have been much more disappointing. A two-time state medalist in the pole vault, Willis made his fourth consecutive trip to the event anticipating a climactic end to his prep career.
It turned out to be an off day for the vaulter, however, and Willis, who owns the THS pole vault record at 14 feet, 6 inches, was eliminated after clearing 13 feet and took ninth place.
Dejected, Willis sat on the stadium turf and battled tears as teammates tried to console him. That fight continued as he exited the stadium and was met with hugs from family and friends.
"I've never been this upset," Willis said after finding some composure. "It's my worst jump since sophomore year."
Caught up in the moment, the dejected senior said well wishes weren't easing his pain.
"Honestly, nothing's helping… I wanted to go out with a bang and went out with absolutely nothing," he said. "I had potential for winning this meet. I don't know what happened."
The fact that the eventual state champion, Buhler's Andrew Pope, won with a mark of 14 feet seemed to make things worse.
"I know what first place got and I've jumped higher than that," Willis said.
Williams said the senior's coaches and teammates were hoping he could finish much better, but no one took the result harder than Willis.
"It's always tough when a senior has that bad a day at state when he knows he had a realistic chance to win," he said.
The coach noted Willis has been one of the team's emotional leaders the past few years and his presence will be missed.
There were ties atop both the boys and girls team standings in 4A. The girls from Baldwin and Colby tied for first, as did the boys from Baldwin and Louisburg.
Class 4A state track
Friday, Saturday at Cessna Stadium, Wichita
Girls
Team scores: tie-1. Baldwin, 41; tie-1. Colby, 41; 3. El Dorado, 34; 4. Hesston, 33; 5. Andale, 30; 14. Tonganoxie, 18.
THS results
Long jump — 10. Jenny Whitledge, 15-10.25.
400-meter dash prelim — 10. Cristina Rubio, 1:01.87.
300-meter hurdles prelim — 6. Jenny Whitledge, 47.05.
High jump — 1. Jenny Whitledge, 5-4; 8. Haley Griffin, 4-10.
Shot put — 2. Domino Grizzle, 40-9.5.
Discus — 13. Domino Grizzle, 103-4.
Pole vault — Dannie Oelschlaeger, did not place.
300-meter hurdles final — 8. Jenny Whitledge, 47.89.
Boys
Team scores: tie-1. Louisburg, 43; tie-1. Baldwin, 43; 3. Andale, 36; 4. Rose Hill, 33; 5. Paola, 31; 34. Tonganoxie, 4.5.
THS results
High jump — tie-4. Adrian Whittington, 6-4; 15. Dylan Jacobs, 5-8.
Triple jump — 7. Dylan Scates, 43-2; 13. Adrian Whittington, 41-0.25.
Pole vault — tie-9. Jake Willis, 13-0.
Long jump — 16. Dylan Scates, 18-3.25.
Javelin — 11. Lucas Ahart, 158-9.