Championship high: Whitledge outleaps defending state champ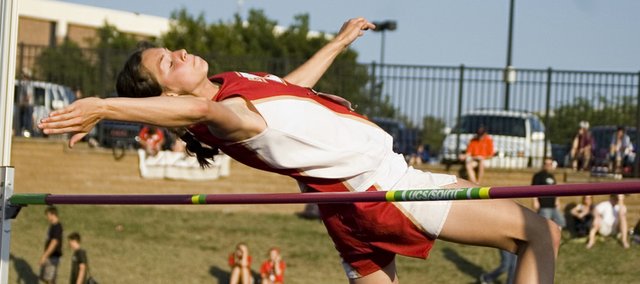 Photo Gallery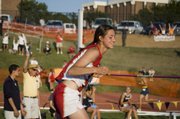 Whitledge wins state high jump title
Tonganoxie High sophomore Jenny Whitledge won the Class 4A state high jump championship Friday at Cessna Stadium in Wichita.
Wichita — When Tonganoxie High jumpers get together at practice, they have an ongoing joke as they prepare to make their run toward the bar.
When a jumper gets ready, someone will yell out: "For the world championship."
The stage wasn't quite that large Friday at the state track meet when Chieftains sophomore Jenny Whitledge was trying to outdo Louisburg senior — and defending state champion — Colleen O'Brien in the high jump but a Class 4A title was up for grabs and the scene intensified as the two became the only competitors remaining when the bar was raised to 5 feet, 4 inches.
Sensing that Whitledge, a self-critiquing competitor, might need to relax a tad, Tonganoxie girls track and jump coach Chris Weller shouted to his pupil: "It's only for the championship of the world."
Shortly after those joking words, Whitledge made her third run at 5-4 calmly and finally cleared it to claim a state championship.
Whitledge tried to look at state as just another meet but it felt more important than that, she said. After tying for second place at state as a freshman, she had a lot riding on her sophomore return to Cessna Stadium.
"I set really high goals for myself this year, knowing that I wanted to get first," Whitledge said.
The newly-crowned state champion, Weller said, has the kind of drive a coach wants in an athlete and he knew she would not be happy with second place this time around.
"She's a very competitive person and she does like to win," Weller said.
That competitive nature showed afterward, as Whitledge said she hoped to set a new school record in the girls high jump at the state track meet with a leap of 5 feet, 6 inches.
She settled for 5-4 and a state championship.
The spring in Whitledge's steps made her the only girl in the event to jump higher than 5-2 and once she won her title, she went after an even tougher height, 5-6.
"After I cleared 5-4, I definitely thought my adrenaline would take me over the bar," Whitledge said.
Though she didn't get to set a new THS record, the sophomore was plenty excited with her state title.
"I wanted to scream. I'm not kidding. It was an insane moment in your life," Whitledge said of finishing first. "It's the biggest meet you have and to know you just won it all and all your hard work has paid off...it makes me smile."
Her main regret on her big day, Whitledge said, was that O'Brien was dealing with an injury and wasn't at 100 percent. She said she would have liked to face the Louisburg senior, who won state last year at 5-6, when she was completely healthy.
"A win is a win and I'm happy I won it this year," the sophomore state champ said.
Whitledge was busy Friday afternoon. Her itinerary began with long jump, and when she topped out at 15-10.25 and didn't make the finals, she was irked, because she entered the event as the third-best seed.
"It really did upset me," Whitledge said. "I'm not gonna lie."
She said she "had to take the anger out" on her run in a 300-meter hurdles prelim and it must have worked — she set a THS record in the event with a sixth-place time of 47.05 and qualified for a Saturday final, where she went on to finish eighth.
Preparing for three state events, she said, wasn't easy and she tried to stay in "attack mode" throughout her time at the meet.
"It's definitely a little overwhelming," Whitledge said.
Some of that pressure, Weller said, comes from inside the sophomore.
"You never have to get on her in the high jump," he said. "She's her worst critic."
Winning a championship, he added, was a step in the right direction and "got the monkey off her back."
With that in mind, Whitledge is looking forward to the chance to win another state high jump crown or two.
"Hopefully I can defend it next year and the year after that," she said