Grizzle gets back above 40 feet, takes 2nd in state shot put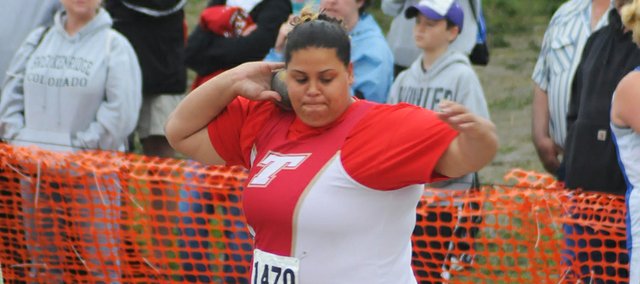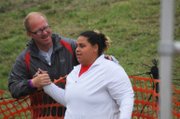 Medals had not been doing much for Tonganoxie High senior Domino Grizzle lately.
A regional championship and a Kaw Valley League title in her marquee event, the shot put, over the previous few weeks might have been noteworthy for someone else, but they weren't very satisfying for Grizzle.
Determined to improve, she started staying later at practices and focusing on her shortcomings with the intent of getting back to throws in the 40-feet range, which she had reached a few times earlier this season.
The extra repetitions, Grizzle said, allowed her to throw the shot 40 feet, 9.5 inches Saturday morning at the state track meet in Wichita and win a Class 4A silver medal.
"I was really proud of myself because I had been struggling the last few meets," Grizzle said, referring to first-place throws of 37-9 and 35-6.5 the previous two weeks.
The Chieftains senior steadily improved on each of her first three throws in her flight at state and hit 40-9.5 on her first throw of the finals to secure second place.
It wasn't easy for her to do, she said, because she had trouble sleeping the night before the competition, which began at 8 a.m. at Cessna Stadium. Grizzle said she woke up a few times worrying about state and she is "not really a morning person," so she was both tired and troubled as she traveled from a hotel to the meet that morning.
She considered herself fortunate that she was able to clear her mind and focus on her weak points, she said, such as coming around lower on her spin by bending her knees more in the middle of her rotation.
THS girls coach Chris Weller noted he was impressed with how Grizzle improved her distance on each of her first four throws Saturday morning, which led to her silver medal.
"I think it's a big deal," Weller said of Grizzle taking second at state on the final day of her Tonganoxie career. "She was mentally prepared this year."
That might not have been the case at the 2010 state track meet, Grizzle said. Though she competed both in state shot put and discus as a junior, she failed to win a medal. It was a disappointment that stuck with her, but Grizzle said, on the advice of Tonganoxie throws coach Matt Bond, she didn't want to focus on that during her senior-year trip to state.
"I kind of just wanted to forget all about it," she said. "I didn't want people to remember me for that."
This year's result, she added, proved far more satisfying.
"It was pretty awesome for me," Grizzle said.
Following the joy of a state silver medal, the THS senior quickly had to turn her focus to the discus and went to compete in that event after appearing on the medal stand in the middle of the stadium.
She ended up 13th in discus, but that wasn't enough to ruin a morning that she will remember.
"I'm just happy about doing well in shot," she said. "I wasn't disappointed."