Tonganoxie jumpers showcase their talents at state meet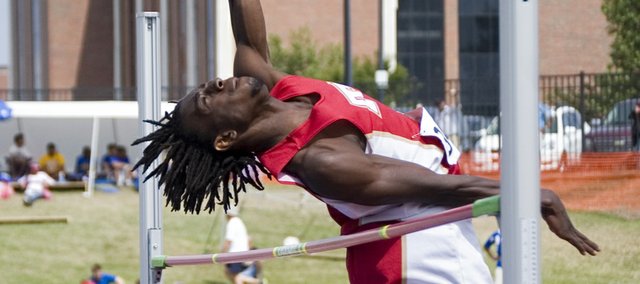 Wichita — With one of his events completed and another about to start Friday at Cessna Stadium, Tonganoxie High senior Adrian Whittington looked for answers.
Having just finished his second straight appearance in the Class 4A state high jump competition, Whittington went back and forth from the triple jump area to a tent near the medal stand, trying to figure out where he had placed with his high jump of 6 feet, 4 inches.
"It was taking forever," he complained.
The wait for the news, which was prolonged by three jumpers getting knocked out with marks of 6-4, proved worth it for the Chieftains senior jumper, who was excited to learn he tied for fourth place — one or two spots better than he figured and far better than his junior-year trip to state.
A year before, Whittington's best jump at state was 5-8 and he finished 13th. Coming back to the event as a senior and moving up nine spots meant a lot to him.
"It was a big confidence booster because last year I felt like I just struggled and gave it away, really," he said.
His progression from last season's end to now, his coaches said, has been remarkable. Tonganoxie jumps coach Chris Weller said Whittington worked very hard to improve in the past year and got much better with the arch on his jumps.
Tonganoxie boys track coach Phil Williams said Whittington had impressed with his ability to reach new heights (the senior didn't set his personal record at 6-4 until the week before at a regional meet).
"I have been very proud of Adrian Whittington the last three weeks," Williams said, "with the improvement and consistency he has shown."
Each new personal record, Whittington said, has been a step toward catching up with his older brother, Kendrick, a former THS high jumper.
"It's really like a mental competition between me and my brother," he said.
Though Adrian didn't match his older sibling's record of 6-6, Weller said the younger Whittington wasn't as tall as Kendrick, and Adrian shouldn't feel too bad about his state performance, because he cleared both 6-2 and 6-4 on his first attempts.
"When you jump 6-4 at state and don't miss, that wins most years," Weller said.
Scates 7th in triple jump
For the third season in a row, Chieftains senior Dylan Scates qualified for state triple jump and with a seventh-place finish in the event Friday, he won his second straight state medal.
Scates said his state experiences have helped him become a jumper that looks forward to the spotlight.
"When the pressure is on, that's when I do my best," he said.
That was the case on Friday, too, as he had his best jump on his third attempt, both in his flight and in the finals. Scates needed a good mark just to reach the finals and had his best jump of the day, 43-2, on his third and final attempt of his flight. The senior said he likes building up to his top jump and doesn't fret if he starts off slow.
"That's exactly how the triple works for me," Scates said. "When I come out and I pop a 41 at the beginning… I'm not worried at all. My dad calls me a clutch jumper."
He said he would have much rather ended by improving on his personal record of 43-7, but said he couldn't get mad about failing to do so.
"That's athletics right there for you," he said. "It doesn't always turn out the way you want it to but you just have to deal with it."
Whittington finished 13th in triple jump and on Saturday morning Scates wrapped up his weekend at state with a 16th-place finish in long jump.
5 THS state jumpers
Whittington and Scates were just two of five Tonganoxie jumpers to make it to state.
Joining them were girls high jumpers Jenny Whitledge (who won the state title) and Haley Griffin (who finished eighth) and boys high jumper Dylan Jacobs (who finished 15th).
Weller said that number was the highest in his time at THS, noting three had gone in one year before, but never five.
"Some of them are extremely gifted and some of them work extremely hard to get where they're at," he said.
Both Jacobs and Whittington made it to state in the high jump last year, too. But this season they flipped results — Jacobs tied for sixth in 2010 and didn't medal this year.
The THS junior said he was disappointed in his 15th-place performance, but happy for his teammate.
"I'm really proud of him and I'm glad he did this this year and that he got the medal," Jacobs said.
Whittington's vast improvement, he added, was the result of his work ethic, noting the senior's improved arch.
"I didn't teach him that," Jacobs said with a grin. "Mine's not very good."
After finishing his prep career as a jumper, Whittington said he wished he could come back for another year with his teammates and Weller, because he couldn't believe his days at THS were done.
"It doesn't feel real. Seriously," he said. "I wish I could do it another year, but it's over."