Atchison explosion claims
THS

graduate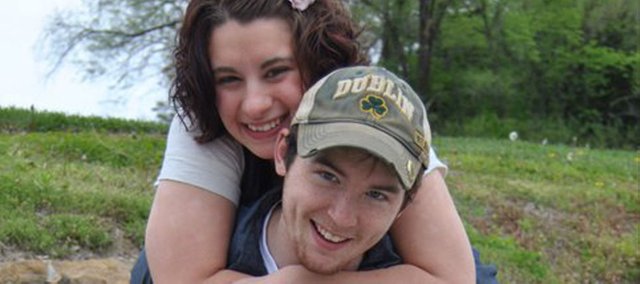 Ali George and her boyfriend, Dylan Young, hung out often with Tonganoxie High School classmate Chad Roberts and his fiancee, Alicia Cobleigh.
George called their hanging out "a double-date thing." In fact, George and Young were to be in their friends' wedding in November.
This past weekend, Roberts, a 2010 THS graduate, was one of six who died in a grain elevator explosion at the Bartlett Grain Co. facility in Atchison.
"He was always happy," George said, describing Roberts. "He was a spur-of-the-moment kind of guy. He was very caring. He would do anything for his friends."
Roberts and Cobleigh were to be married Nov. 19, George said. They also were planning a spring honeymoon cruise in the Bahamas.
Ali George is best friends with Cobleigh, whom she met through Roberts. Cobleigh went to school at nearby Pleasant Ridge High School.
George said Roberts loved Cobleigh "loved Alicia beyond words."
Roberts, 20, Atchison, was one of four Bartlett employees found dead in the days following the explosion, according to the Associated Press. Also found during the weekend were Bartlett employees Ryan Federinko, 21, and Curtis Field, 21, both of Atchison, and John Burke, 24, Denton.
Also found after the explosion were grain inspectors Travis Keil, 34, an Iraq war veteran from Topeka, and Darrek Klahr, 43, Wetmore.
Two others were injured in the blast and taken to Kansas University Hospital in Kansas City, Kan. A hospital official there said Tuesday morning that one was one listed in critical condition and the other in serious condition.
Just about three weeks from his wedding date, Roberts was remembered by others from Tonganoxie.
Another of Roberts' THS classmates, Cooper Gish, had this to say about the 20-year-old: "I was very fortunate to know Chad in addition to having him in some of my classes," Gish said. "He was always an enjoyable guy to be around with a great sense of humor, but he was also very diligent and hardworking when necessary.
"I can safely say I speak for many when I say he'll be dearly missed."
George's mother, Tammie George, principal at Tonganoxie Elementary School, first knew Roberts as a student in the elementary school. She described him as "very quiet and very well-behaved" as a youngster.
Roberts' death was the third among Tonganoxie's Class of 2010.
Connor Olson died after a long battle with bone cancer, while Jeremy Elliott died in his sleep from a heart condition, both during their senior year at THS.
"It does really make you rethink your life — what your next move is," Ali George said. "It makes you think about it again. It keeps you on your toes at all times, I guess."
Ali George said Roberts' funeral was planned for Friday in Topeka.