County commissioners approve new districts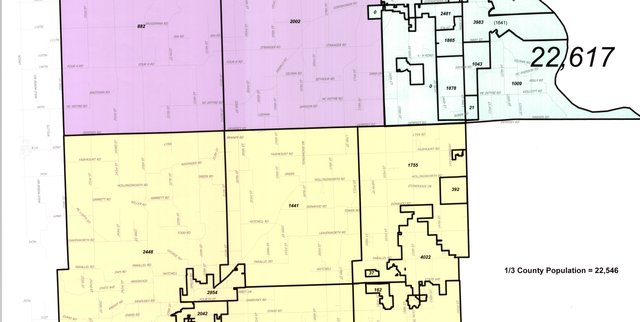 Leavenworth County Commissioners last week approved, 3-0, new commission districts based on 2010 Census figures, setting the southernmost 3rd District as all territory south of Dempsey Road.
The 3rd District, which includes Tonganoxie and Basehor and is currently represented by commissioner John Flower, will lose the unincorporated area of Delaware Township surrounding Lansing, shrinking to allow for a county population that has moved southward since 2000.
The northernmost 1st District, the population of which had decreased since 2000, will expand to include Alexandria and High Prairie townships, leaving the 2nd District with Lansing, southern Leavenworth and Delaware Township. Commissioner Bob Holland currently represents the 1st District, and Clyde Graeber represents the 2nd.
Leavenworth County Clerk Janet Klasinski said the boundaries would change immediately, to allow for candidates to begin filing for commission races in 2012, when the 2nd and 3rd districts will be up for election.