Customers crowd Basehor craft fairs as vendors see familiar faces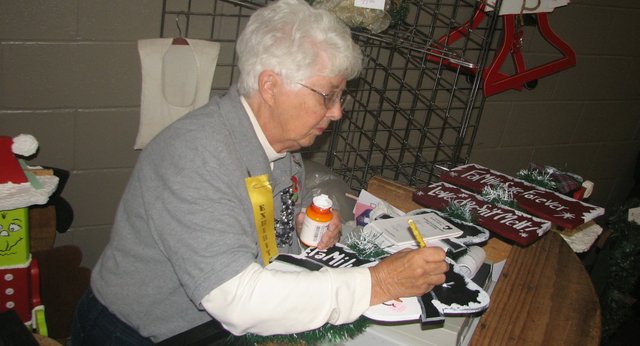 Photo Gallery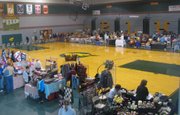 2011 Basehor craft shows
Scenes from the coinciding craft shows at Basehor-Linwood High School and Holy Angels Catholic Church on Saturday, Nov. 5.
Eddie Siscoe of Berryton, near Topeka, will go to about 10 craft fairs this year with her husband to sell their handmade wooden holiday decorations, traveling as far as near Fayetteville, Ark.
And the show at Basehor-Linwood High School is one of the better ones, she said Saturday while painting a family's last name on a Christmas-themed decorative signpost. That's because of the good business they usually do in Basehor, she said, but also because of the familiar faces they see each year.
"We do it because we like the people," Eddie Siscoe said of their crafting hobby.
About 1,750 people came through the BLHS doors Saturday to shop at the craft show sponsored by the Alpha Delta Kappa women educators organization, organizer Marilyn Daniels said, a slight increase from the 2010 show. Mild weather may have helped make the day a success, she said.
"It was a lovely day," Daniels said.
The Holy Angels Catholic Church craft show, also Saturday, was crowded with customers as well — enough to convince nearly all the vendors to come back next year, organizer Annie Clark said.
"As long as our old vendors continue to come back and are satisfied, that's what makes us happy," Clark said.
The craft shows at the church and BLHS are the primary fundraisers for the Holy Angels Parish Catholic Women's Organization and the ADK Beta Epsilon Chapter, respectively. Both groups use the proceeds for charitable activities, with the ADK chapter funding scholarships for area students and the CWO contributing to the Alliance Against Family Violence and the Birthright pregnancy center in Leavenworth, among other causes.
Customers at both shows said they were also great shopping destinations, whether to cross names off of Christmas lists or pick up some home décor.
Donna Lynn of De Soto bought a piece of jewelry fashioned from an old wine cork as a Christmas gift at the BLHS fair.
"I came here to shop for one person, and this isn't the person," she said, laughing. "I could spend a lot of money if I had it."
At the Holy Angels show, Theresa Planac of Kansas City, Kan., chatted with a friend in the early afternoon Saturday as she sat at a table with a variety of handmade fabric goods that she was selling. She's made several good friends during her five years selling items at the show, she said.
"We have an awful good crowd here today, the best one I've ever seen," Planac said.
The BLHS fair featured about 90 exhibitors selling crafts, while the Holy Angels show had about 25. Organizers said both shows had reached the maximum number of vendors that could fit in the space allowed.
"They pack a lot in that little hall," Clark said of the Holy Angels fair.
Both fairs take place the first Saturday of each November.