Houston halts Sporting
KC

's title bid in Eastern Conference finals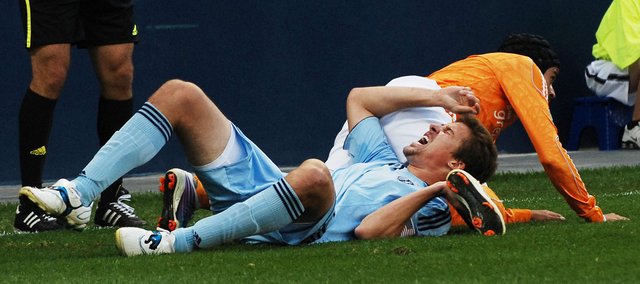 Kansas City, Kan. — Sporting Kansas City needed a little more LIVESTRONG Sporting Park magic for one last comeback, but in the final home game of a season that has featured numerous remarkable finishes, there was no magic to be had.
Photo Gallery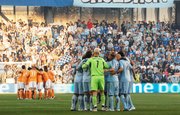 Houston Dynamo 2, Sporting KC 0
The Houston Dynamo handed Sporting Kansas City a 2-0 loss Sunday evening in the Eastern Conference Championship.
The loss ended a season that saw Sporting KC open its new stadium while in last place, then rise all the way to the top of the standings by the end of the regular season and come within a game of playing for the MLS Cup.
"We're disappointed because we did realize that it could have been something special with the crowd, with us being at home and only having a one-game series, so that's the unfortunate part about it," said defender Matt Besler, an Overland Park native who grew up watching the club play its games at Arrowhead Stadium.
A LIVESTRONG Sporting Park record crowd of 20,839 turned out to try to will their team to one more victory. That support made the loss even more disappointing for Sporting KC manager Peter Vermes.
"Very disappointed, especially for the organization and the fans," Vermes said. "What a great turnout tonight. We did everything to get ourselves in this position, but we're just a little bit too young still with the group that we have. But I think, all in all, a great season to be proud of for the guys. To come as far as they have, there's no doubt the experiences that have been gained this year will be very beneficial in years to come because a lot of guys have matured and have had a great season.
"I think we've not only found a good, solid nucleus of players here, but also maybe we've created a cult here with Sporting because the fans and the turnout tonight was absolutely incredible."
Sporting Kansas City controlled possession for most of the first half, but it struggled to string together enough combinations to stretch the Dynamo defense and create scoring opportunities. The first chance for Sporting KC came in the 11th minute when Seth Sinovic made a long run and fed a pass to Roger Espinoza who made a quick pass to Teal Bunbury at the near post, but the ball was cleared before he could get a good strike. Espinoza then put a shot over the crossbar off of a corner kick deflection in the 19th minute. Later Bunbury had a point-blank shot blocked by Houston keeper Tally Hall in the 28th minute. Finally, Sporting KC nearly scored in stoppage time when Graham Zusi sent a direct kick into the box, but Aurelien Collin's header missed wide.
Houston's first-half chances were limited but dangerous. Brian Ching sent a chip shot just over the crossbar in the eighth minute, and Calen Carr got past Besler and fired a rocket that was punched wide by a charging Jimmy Nielsen.
The most notable action of the first half was a late injury to Houston midfielder Brad Davis, forcing the Dynamo to play the rest of the way without their dangerous distributor.
Even without Davis, Houston's offense proved to be effective. The Dynamo survived a few early threats from Sporting Kansas City in the second half, and then took the lead when Jermaine Taylor received a free kick near the back post and headed it to Andre Hainault who knocked it in from a yard out for a 1-0 Houston lead in the 53rd minute.
The lead nearly doubled a minute later when Luiz Camargo got a good look at the Sporting KC goal from close range, but Nielsen dove and took the ball off of Camargo's foot.
From there, Sporting Kansas City picked up the pace offensively. It had numerous free kicks and corner kicks into the box, but struggled to find a connection. In one flurry of activity in the 56th minute, Zusi sent a free kick into the box and found Besler near the back post. His quick shot drilled off of teammate Kei Kamara who also was in the area. Kamara then fired a follow-up shot that was blocked, and Julio Cesar had two more tries at it while laying on the ground and poking at it with his toe before Hall finally pounced on it.
Tensions grew from there as Sporting Kansas City struggled to even the score. Fouls piled up for both teams, as did yellow cards in a match that grew increasingly chippy.
The tension finally broke in the 87th minute when the Sporting Kansas City defense pushed forward, and Houston used a long ball to counterattack. Carlo Costly took it in stride, attacked right at Nielsen and fired a shot that banked off the left post and into the goal for a 2-0 lead.
Sporting KC didn't stop fighting. It inserted Omar Bravo — a dynamic goal-scorer who'd missed the previous two games with an injury — into the lineup late in hopes of striking late. He was a nonfactor, however.
In the first seconds of stoppage time, C.J. Sapong chipped a pass from the top of the box to Kamara whose header was on target but saved by Hall. After a few more fruitless attacks, time ran out and Houston celebrated its berth in the finals.
"This one hurts for sure because we were so close," Besler said. "(It's a) missed opportunity, but everyone moves on. It's a game."
A few hundred Houston fans who made the trip to Kansas City for the match celebrated in the stands as their team danced on the stage and accepted the Eastern Conference Championship trophy. Meanwhile, the Kansas City faithful quietly filed out of a stadium they'd made as raucous as any in MLS on a regular basis.
Kamara made it clear the team felt the fans' pain and said Sporting KC was fighting as much to win for the city as it was for the franchise.
"Coming into this game everybody knew what we wanted, we definitely wanted to finish the season off with something good, something good for this city, not just for us in the locker room," Kamara said. "We love it, we enjoy getting all those wins, playing week in and week out, but it was definitely about us finishing something off and giving the city what they've given us all year — it's the love. They wanted a championship, something to dance around, but that didn't work out for us."
NOTES
— Sporting KC outshot Houston 15-6 and had a 5-4 shots on goal edge
— Sporting KC had a 4-1 advantage on corner kicks
— Each squad was whistled for 12 fouls
— A collective five yellow cards were issued, three on Houston (Calen Carr, Luiz Camargo, Carlo Costly) and two on Sporting KC (Julio Cesar, Roger Espinoza)
— The loss was Sporting KC's first in nine matches
— Sporting KC made its first appearance in the conference finals since a 2-0 loss to Houston in the 2007 finals.
— Houston advanced to the MLS Cup, which will take place Nov. 20 at the Home Depot Center in Carson, Calif.
— A LIVESTRONG Sporting Park record crowd of 20,839 was in attendance