FFA

horse judging team places at national event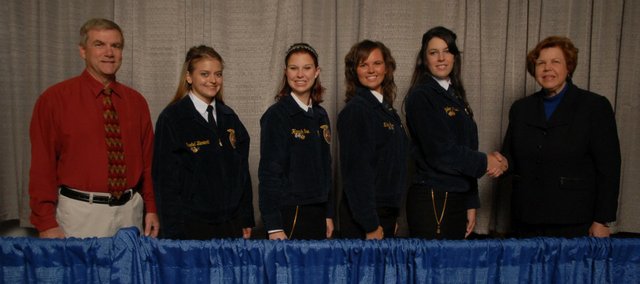 The Tonganoxie FFA Horse Judging Team placed in the Gold Division at the National FFA Horse Judging Career Development Event this past month in Indianapolis.
The horse judging team of Rachel Bieniecki, Tayler Miles, Hannah Gee and Nikki Gee placed 14th overall. Bieniecki placed seventh overall and ninth in reasons. For placing seventh, Bieniecki will receive a $1,000 scholarship. Bieniecki and Miles both placed in the Gold Division, Hannah Gee in the Silver and Nikki Gee in the Bronze.
Winners of the national award were announced at the annual awards banquet and took place in conjunction with the 84th National FFA Convention in Indianapolis.
The top seven individuals and the national winning team members received scholarships to further their education at a post-secondary institution of their choice. The scholarships and the event are sponsored by RAM Trucks of Auburn Hills, Mich.; Tractor Supply Company of Brentwood, Tenn.; and Wahl Clipper Corporation of Sterling, Ill., as a special project of the National FFA Foundation.
The National FFA Horse Evaluation CDE is a competitive activity that tests students' ability to select and evaluate horses. Event components include eight selection classes that consisted of four halter classes and four performance classes. Each team competed at local and state levels for the privilege of representing its state at the national FFA convention. The event, which took place at the Indiana State Fairgrounds in Indianapolis, is one of many educational activities at the national convention in which FFA members apply classroom knowledge to real-life situations.