5 Questions: Honoring service
Holiday celebrates all veterans, living and dead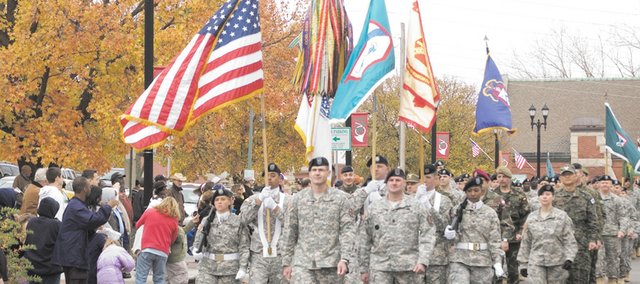 Q: Which is correct: Veterans Day, Veteran's Day or Veterans' Day?
A: Veterans Day does not include an apostrophe but does include an "s" at the end of "veterans" because it is not a day that "belongs" to veterans, it is a day for honoring all veterans.
Q: On what day of the week will Veterans Day be observed?
A: Veterans Day is always observed officially on Nov. 11, regardless of the day of the week on which it falls. However, when Veterans Day falls on a weekday, many communities choose to have Veterans Day parades or other celebrations on the weekend before or after Nov. 11 so that more people can participate.
Q: Why do some schools close and others remain open on Veterans Day?
A: Because there is no legal requirement that schools close on Veterans Day, individual states or school districts are free to establish their own policies on school closings.
Q: Is Veterans Day celebrated in other countries?
A: Yes, a number of countries honor their veterans each year on Nov. 11, although the name and types of commemorations differ somewhat from Veterans Day celebrations in the United States. For example, Canada and Australia observe "Remembrance Day" on Nov. 11, and Great Britain observes "Remembrance Day" on the Sunday nearest to Nov. 11.
Q: What's the difference between Veterans Day and Memorial Day?
A: Memorial Day is a day for remembering and honoring military personnel who died in the service of their country, particularly those who died in battle or as a result of wounds sustained in battle. While those who died are also remembered, Veterans Day is the day set aside to thank and honor all those who served honorably in the military - in wartime or peacetime. In fact, Veterans Day is largely intended to thank living veterans for their service.