Couple serving up healthy living recipe downtown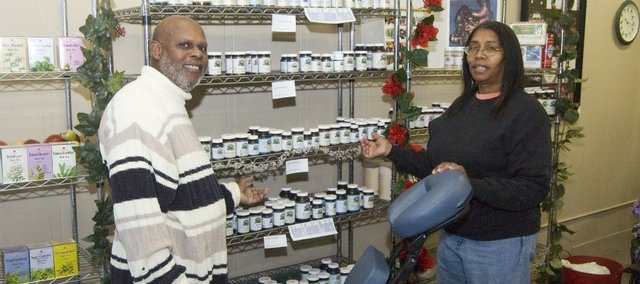 Health and wellness isn't about only one thing, whether it be vitamins, herbs, aromatherapy or even massage therapy.
Joveta Johnson said she was happy to provide all those things and more at Nature's Open Door, a store she and her husband, Lou Johnson, opened in late October in downtown Tonganoxie.
"Health and wellness isn't just one thing," Joveta said. "It's like a recipe."
Her mother had a store by the same name in Harrisonville, Mo., until about four years ago when she suffered a stroke.
Johnson, who has been a distributor of Nature's Sunshine products for roughly 30 years, is continuing on with her mother's business in Tonganoxie at 414 E. Fourth St.
Raised in Chicago, Joveta and her family eventually moved to Missouri, but wanted to find a home in the country. In April, Joveta and Lou moved to rural Tonganoxie.
She said she's always wanted to have a business in which she also could offer massage therapy. The store has a room for massages with a table. The store also is equipped with a massage chair. Joveta noted that she also offers house and business calls for chair massages by appointment.
Some of the other products available include Watkins products and Country Gourmet Home products, which are a line of dry mixes for various meals, soups, cookies and breads.
There even are some herbs that are beneficial to pets, Joveta said, as well as herbs in capsule form because some are bitter.
"Bypass the tongue and get it where it's going," Joveta said.
There are plenty of gift ideas as well, with various art and religious items along with a selection of candles, scented oil warmers and herbal teas. In addition, Lou does custom framing by appointment.
Future plans include doing health and wellness seminars at the store, as well as possibly installing a juice bar.
As for current happenings at the store, Nature's Open Door is accepting canned goods to be donated to the Good Shepherd Thrift Store and Food Pantry. Anyone brining in a donation will receive a complimentary chair massage.
The store is open 9 a.m.-6 p.m. Mondays through Fridays and 9 a.m.-2 p.m. on Saturdays.
The number for the business is (913) 424-0112. For more information, go to naturesopendoor.com or email naturesopendoor@gmail.com.