West Haven Church's sign appeal rescheduled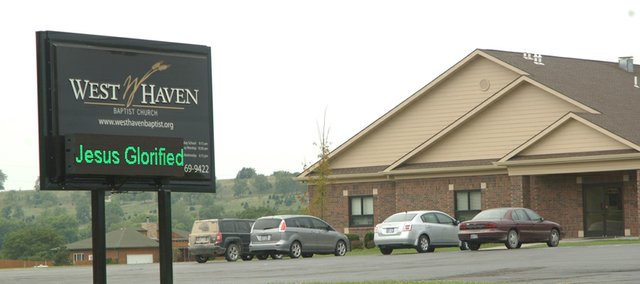 After a two-month wait, West Haven Baptist Church was to get a date before the Tonganoxie Board of Zoning Appeals on the issue of new sign.
However, the appeals board, whose members also serve on the Tonganoxie Planning Commission, canceled its meeting for lack of a quorum when one of its members couldn't attend because of a family emergency. City Clerk Kathy Bard said the board would hear the appeal at its next scheduled meeting at 7 p.m. Dec. 1 at City Hall.
The issue stemmed from an Aug. 18 letter city codes inspector Mark Lee sent the church, stating the sign is not in compliance with the Tonganoxie Planning Commission ruling of Jan. 6. That ruling allowed the sign with the stipulations that the height of the sign not be increased from one there previously and that it comply with Tonganoxie zoning regulations section 25, subsection 25-021 D, which states electronic message signs "shall not include animation, or include messages that are animated, moving, flashing, blinking, reflecting, revolving and/or rotating."
Subsequently, it was also noted the planning commission's approval was contingent on the installation of a masonry enclosure at the sign's base to make it "monument" rather than a "pole" sign.
At a Sept. 12 Tonganoxie City Council meeting, council members agreed with West Haven Pastor Mike Bronson both issues had been addressed with the addition of masonry and the church's toning down of the electronic capabilities of the sign. However, the council remanded the issue to the board of zoning appeals as the proper protocol, while agreeing the sign could stay until the issue was resolved.
It was assumed at that time that the matter would be before the zoning board in October. But the need to notify neighbors and provide a 30-day notice moved the issue to the November meeting canceled last week.
Mark Scribner, West Haven youth pastor, said the church would appeal findings in the Aug. 17 letter, although it could also appeal the planning commission's Jan. 6 decision. That option would still be available should the first appeal be turned down, he said.
The congregation, which has to reschedule meetings of its own because of lack of a quorum, understands the delay, Scribner said. The church is now entering the busiest time of the year with the coming holidays and that is the focus of the congregation, he said.
Bard said should church prevail before the appeals board, the code enforcement issue would become null and void. Should the decision not go its way, the church also could appeal the decision in Leavenworth County District Court, she said.