65 years after high school, Tonganoxie High student and World War
II

veteran receives diploma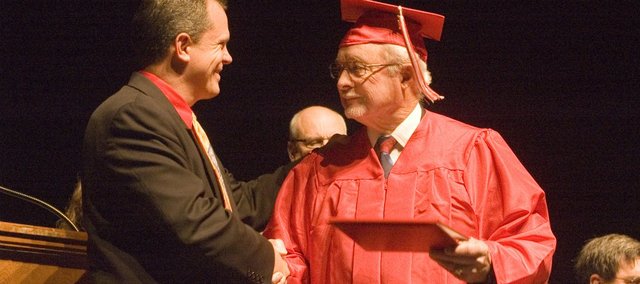 Tonganoxie — Galen Freeman never had the chance to graduate with his Tonganoxie High School classmates.
About 65 years later, he's in a class of his own.
During a Veterans Day assembly Thursday at THS, Freeman sat on stage with other local veterans who were being recognized for their military service.
Midway through the ceremony, Freeman, who left school his junior year in 1946 to join the Navy, was motioned to come off stage.
It was in a THS hallway that a school official told Freeman the assembly also was serving as a commencement ceremony for him. Given a red cap and gown, Freeman later walked through the THS performing arts center and on stage to receive his diploma.
"I was pretty emotional," Freeman said about learning of his diploma.
Freeman, who also is the Tonganoxie VFW Post commander, earned his diploma thanks to the Kansas Commission on Veterans' Affairs. The commission sponsors Operation Recognition, which honors veterans from the World War II and Korean War eras who left school early to join the military.
Some of Freeman's fellow VFW members got the ball rolling with the state commission, which then worked with Tonganoxie High School.
Principal Jamie Carlisle said Freeman's diploma arrived Wednesday.
"This is one of the proudest moments I've been associated with," Carlisle said before presenting Freeman with his honorary diploma.
Also on hand to congratulate Freeman were school board president Diane Truesdell and Superintendent Randy Weseman.
Freeman said he joined the Navy in February 1946 and was stationed in California and Alaska, as well as the Pacific Islands, including off the shore of Saipan where he assisted with ammunition cleanup following World War II. He served for two years in the Navy before returning home to Kansas.
His daughter, Lisa Powell, said it was fitting that her father received his diploma because he's always stressed the importance of education. Powell currently is in the master's program at Kansas University Medical Center.
"I'm thrilled," she said. "It's something he's always wanted to do."
Of course, with any graduation there has to be a party. "Where's the graduation party, Galen?" a relative asked.
"I don't know," Freeman replied. "You tell me."
Operation Recognition is open to all honorably discharged veterans who served in World War II between Sept. 16, 1940, and Dec. 31, 1946, and Korean War veterans who served between June 27, 1950, and Jan. 31, 1955, who did not graduate from high school.
Those who have obtained their diploma but entered service before they could participate in their graduation ceremonies also are encouraged to apply, and diplomas can be awarded posthumously.