Scores of attendees — and parade entries — honor veterans in Leavenworth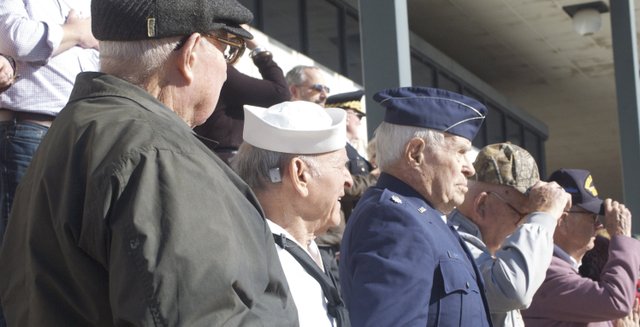 Photo Gallery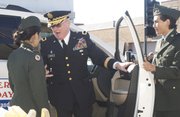 92nd annual Leavenworth County Veterans Day Parade
The 92nd annual Leavenworth County Veterans Day parade began at 10:30 a.m. in downtown Leavenworth.
Leavenworth — World War II veteran BB Albert Jr., at 87 years old, attended the oldest Veterans Day parade in the nation for the first time in his life Friday.
And Albert, who served in the U.S. Navy during World War II but retired in 1979 as an Army colonel, said the magnitude of the 92nd annual Leavenworth County Veterans Day Parade made it well worth the wait.
"It was two hours' worth of airplanes and fire trucks and big stuff," said Albert, who came from Parkville, Mo., for the parade.
Organizers say the parade is the largest of its kind west of the Mississippi River, and its size was on display Friday. About 165 entries marched or rode through downtown Leavenworth starting at 10:30 a.m., ranging from school marching bands to a Vietnam-era helicopter to historical groups wearing Civil War and Revolutionary War uniforms. Participants included U.S. Sen. Jerry Moran, U.S. Rep. Lynn Jenkins, a host of other state and local elected officials. Retired Brig. Gen. Stanley Cherrie, who graduated from the Command and General Staff College at Fort Leavenworth, served as the event's grand marshal.
The parade lasted about two hours and drew similar crowds to last year's event, when a police attendance estimate was about 15,000, said Diane Smith, a member of the parade's organizing committee.
Albert sat in front of the reviewing stand near the middle of the parade, at Seventh and Delaware streets. Parade organizers invited area World War II veterans to sit there, as well as a group of soldiers from the Wounded Warriors Transition Unit at Fort Riley.
Next to him was retired Air Force Lt. Col. Bill Adams, who lives outside of Leavenworth. Adams said he had attended the parade many times before, but he'd never had the opportunity to sit at the reviewing stand. Many groups moving through the parade stopped and turned to the veterans sitting there to thank them for their service.
"It was fantastic," Adams said.
Tonganoxie High School principal Jamie Carlisle, one of three judges for the parade's float competition, said the size of the parade and the quality of the entries made it a worthy tribute to veterans.
"There was a lot of work put into them," Carlisle said.
Retired Army Sgt. Maj. Jim Rodgers, the chairman of the parade's organizing committee, said afterward that the attendees and the participants were "outstanding" in honoring those who've served.
"That was a large crowd that we had there today," Rodgers said. "I think everybody in Leavenworth County, just about, came out to watch."