High school roof repairs to cost more than $400,000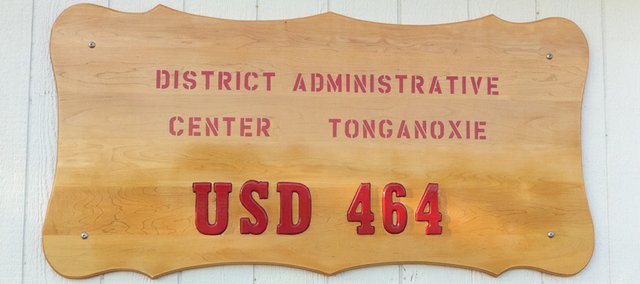 Roof work at Tonganoxie High School will be needed in the near future, USD 464 maintenance director Larry Easter told the Tonganoxie school board Monday.
Portions of the Tonganoxie High School east campus need repair, Easter said.
One section, about 10,000 square feet, had an estimated cost of repair of $120,000 as of 2009. The other, covering about 16,280 square feet, carried a 2009 estimated price tag of $294,000.
The action year for the larger area originally was anticipated for 2010 and 2012, but budget crunches in recent years have delayed the projects.
In other business, the board:
• Viewed a presentation from Superintendent Randy Weseman regarding the education issues in the upcoming 2012 state legislative session.
Weseman said there were many uncertainties, but more information should come to light as the session gets under way in January.
• Reviewed and approved, 7-0, the first reading of the board policy revisions for code sections D and E.
• Discussed use of district credit cards. Board members Kathy Baragary and Leana Leslie mentioned having issues with a school vehicle during an FFA trip to the national convention in Indianapolis.
The vehicle's power steering went out on the trip. The district's credit card for the trip was a gas card for a specific gasoline station.
Baragary used her personal card and was reimbursed, but inquired about a general credit card for the district in the event of such emergencies in the future. Weseman said he would address the issue.
• Met in executive session for a total of 50 minutes. The board met for 25 minutes and then 20 minutes, both closed-door sessions including Weseman.
The board then met for a final five minutes without Weseman in attendance. All sessions took place to discuss personnel.
• Approved minutes, bills and treasurer's report, 7-0.
• Approved the hires of Jon Snapp, THS assistant boys basketball coach; Jenna Meyer, color guard coach; and Melinda Gee, special education bus para.
Recommendations also had been made to the board to hire Ryan Scott and Brad Shelton as assistant THS baseball coaches. No action was taken for those positions.
Leslie said after the meeting the board wanted to ensure the opportunity to fill the positions was made available to all district staff.
She also noted there was substantial time to make a decision, as the baseball season doesn't start until the spring.