Competitive bunch ready to hit the mats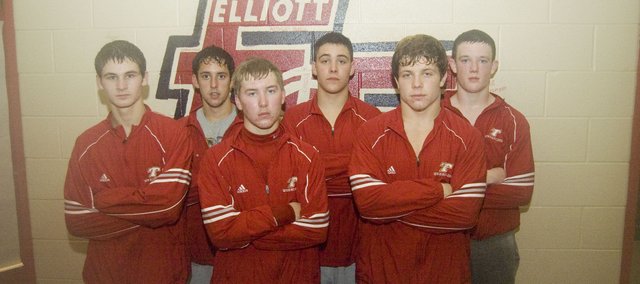 Competition among Tonganoxie High wrestlers is expected to be brisk this winter.
That's fine by THS coach Jeremy Goebel.
"One thing that's going to be great this year, there's going to be a lot of competition in the room," Goebel said. "When we do wrestle-offs, there will be a lot of battling for varsity spots, which is great for our program to be able to have that competitiveness."
Wrestlers can compete for a varsity spot in each weight division weekly by challenging the current varsity spot holder. Whoever wins the match in practice represents the team in that weight class in varsity competition that week.
The Chieftains have six seniors this season: Anthony Baker, Caleb Himpel, Adam Thomas, Matt Soetaert, Jake Spencer and Ryan Lynch.
Himpel said the tone had been set in the first week of practice. A strong freshman class has gotten on board and is following the senior class's lead. He said there's good chemistry with this year's team.
"I think this is going to be one of our best years," Himpel said.
Himpel was one of two state representatives in the 2010-11 season. The other was younger brother Clayton Himpel, who returns for his sophomore campaign.
Caleb said there definitely is some sibling rivalry between the two.
"Actually, on the mat, it's pretty much a brawl," Caleb said, noting the two push each other to be better.
Goebel also was pleased with the offseason preparations, noting many team members "put in a great deal of work in the wrestling room" in the summer.
"I think that preparation right there solidified a great starting point for us this week," Goebel said. "They kind of already got a clear picture of what they can achieve this year.
"Up and down the lineup, we have tough freshmen and tough sophomores, juniors and seniors. It's going to be a great competitive atmosphere to see who steps on the mat for that varsity spot. It's up in the air."
During the summer, team members competed in a team camp, which Goebel also thinks will pay dividends.
"Anytime you can get on the mat, the better you will be," Goebel said. "It's a way for them to keep the dust off their wrestling, keep them fresh a little bit.
"It keeps them involved in terms of working as a team. We went to a team camp and had success. That plays a huge role in terms of building that team aspect."
Though THS had two wrestlers qualify for state last year, there were several more who were one match away from qualifying for state, Goebel said. That experience should be beneficial when those wrestlers are competing at regionals again this year, Goebel said.
Tonganoxie's schedule is similar to this past season's sans the Kaw Valley League preseason dual tournament, which will not take place this year. There still will be a league tournament at the end of the season.
Instead of that dual tourney, Tonganoxie will travel Saturday, Dec. 3, to Wamego for an invitational there.
"Wamego's tournament is going to be a good test for us right off the get-go," Goebel said. "A lot of those teams we won't see until the state tournament."
THS will have its Red-White Scrimmage at 6:30 p.m. Tuesday at the THS east gymnasium.