County commissioners receptive to city's request for help in development of new industrial park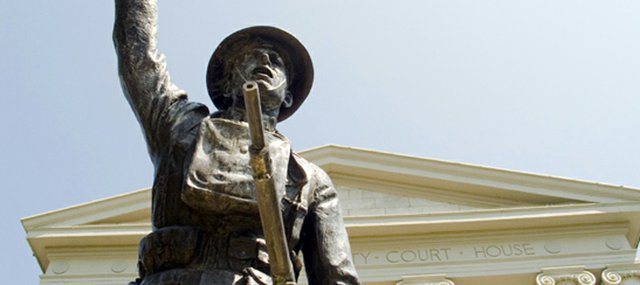 The city of Tonganoxie may not be on its own when it comes to developing part of its empty city-owned industrial park along Leavenworth County Road 1.
Leavenworth County Commissioners on Thursday told Tonganoxie officials they'd like to find a way for the county to chip in part of the cost of improvements needed to get a 40-acre section of the new park ready to be put to use.
County Commissioner Clyde Graeber said a well-located industrial park was something the county needed, and he would like county and city officials to meet to come up with a plan for support.
"I think we really need to look and study," Graeber said, "see if there is something we can do."
Commissioner John Flower said he could support an annual contribution from the county, helping Tonganoxie make bond payments on the park, rather than giving the city a chunk of funding up front.
"I, personally, would not want to give you a million dollars — 'Here, go for it,'" Flower said.
The commissioners' comments followed a presentation by Tonganoxie City Council member Chris Donnelly and Mayor Jason Ward on a proposal for getting a portion of the industrial park ready for a tenant to build a facility.
The street improvements, utility line construction and leveling work necessary for a 40-acre section would cost about $1.93 million, according to a plan formed by Tonganoxie's Industrial Park Committee.
The officials presented a plan for financing the improvements through a 20-year bond, which would also cover the $1.77 million owed for the city's purchase of the property in 2008. But that plan incorporates the addition of a 10-year, quarter-cent sales tax within the city of Tonganoxie, which would require approval from voters.
Donnelly said that sales tax was the biggest sticking point in the plan for Tonganoxie to pay for the improvements on its own.
"I'm a little uncomfortable with increasing sales tax, myself," Donnelly said.
Also incorporated in the financing plan are a one-mill property tax increase, an assessment on residents' utilities and an increase in franchise fees for the city's utility providers.
Flower said that an annual contribution from the county, perhaps helping to take the place of the 10-year sales tax, as opposed to a lump sum would allow the county to back out if something goes awry.
The Tonganoxie officials approached the Leavenworth County Port Authority asking for similar assistance earlier this month.
Donnelly, during the city's presentation to the commissioners, said companies were leery of selecting the Tonganoxie park for industrial facilities when it lacked utility service, roads that can accommodate shipping trucks and flat terrain necessary for building.
He remembered a conference call this past summer with an executive for a company that passed over the Tonganoxie park for a new facility, after visiting the site.
"The very first thing this decision-maker said was, 'The site's not ready,'" Donnelly said.
To develop the whole park, he said, would cost the city about $14 million, an unrealistic amount. But developing a smaller section could help get things started, he said.
"You're eliminating reasons for people to say no," Donnelly said.