Dr. Phil's bench
Commissioned Van Go bench pays tribute to Stevens family patriarch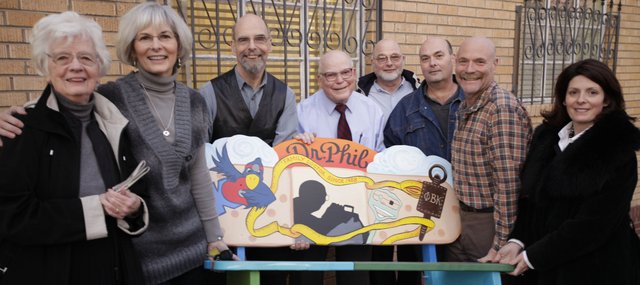 Dr. Phil Stevens was the first to sit on a new bench for the lobby of his longtime downtown Tonganoxie office.
He had quite the reaction.
"Whoa, that's cold!" he exclaimed.
The wooden bench had been in a truckbed Friday evening awaiting its placement in the office. It might have become cold being outside on the chilly November evening, but one could say the bench is a warm and inviting addition to the doctor's office.
The bench was created through Van Go, Inc., an art-based social service agency in Lawrence that provides after-school and summer job training programs to youths ages 14-21.
Dr. Phil and Betty Stevens' daughter Loralee Stevens is a board member for Van Go, which is known for its various artwork throughout Lawrence. One piece was commissioned for someone in Topeka, so Loralee inquired about a project in Tonganoxie.
She chatted with her five siblings about commissioning a Van Go bench that would pay tribute to their father, who has practiced medicine since 1955. They agreed, and the bench was unveiled this summer on display with roughly 20 others at Van Go.
The bench officially moved to the doctor's office Friday because it was the first time all of Phil and Betty's children could be in Tonganoxie at the same time — including son Chuck Stevens, who traveled from Norway for the event.
"I'm overwhelmed," Dr. Phil said. "That's about all I can say … It was wonderful to have everyone in the same room at the same time."
He also described the event as "quite the festive occasion" Friday.
"He loved to have all of his kids back," Loralee said. "And have all of us together. It happens so rarely. It was very special for both my parents.
"It was fun we could all be there to present his bench to him in person. He already had seen it, but we put it in its place of honor."
Joining Loralee and Chuck were brothers Danny of Tonganoxie, Phillip of Roeland Park, Matt of Kansas City, Mo., and sister Lisa Scheller of Tonganoxie.
The bench was built, designed and painted by Van Go's Keegan Masqua, 17, Lawrence, who actually lived in Tonganoxie at one time.
Masqua interviewed Dr. Phil to get a sense of his life and interests. In roughly two months, Masqua assembled the masterpiece. It includes various tributes to Dr. Phil — a physician's weight scale, a Phi Theta Kappa key, a replica of his office, a groundhog and a Jayhawk. Serving as a backdrop is an adhesive bandage.
Dr. Phil, who is 84, graduated from KU — hence the Jayhawk — and also takes on the persona of "Tonganoxie Phil" each Groundhog Day. It's a longstanding tradition of the local doctor being the local answer to Pennsylvania groundhog Punxsutawney Phil. There also are musical notes on the bench to represent his love for music, especially opera in recent years. Loralee said she learned recently her father first enjoyed opera music in New York City while he was serving in the Army. He was able to watch operas in the Big Apple by purchasing inexpensive standing-room-only tickets.
Masqua said he was honored to create the bench for Dr. Phil.
"He was a very nice man," Masqua said. "It was very uplifting being in that place. You could tell he was doing his job for a long time and really liked to help people."
Dr. Phil said Masqua was a talented artist.
"I think it was quite an artistic achievement," he said.
Added Chuck about the bench: "Colorful and good imagination. It's very representative of the doctor."
Masqua currently is planning to be a welder, but he said he would also continue his artistic pursuits as a hobby.
"It felt great doing that for him," Masqua said. "The whole process of that felt great. Van Go is a great company. We do tons of things for all sorts of situations like this. We're always happy to do this stuff."
Now that the bench is in its permanent home, Betty expects it to be a conversation piece for patients.
"It will give people something to talk about," she said.
As for Dr. Phil, he said he liked the décor change.
"It's the only thing in this waiting room that's less than 50 years old," Stevens said with a laugh, noting he opened the practice 56 years ago.