Mother celebrates everyday joys after son's victory over cancer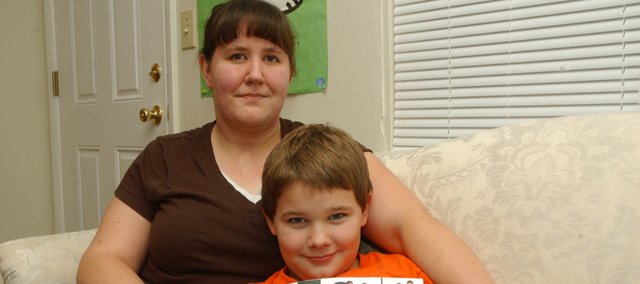 The simple joy of such things as watching her 11-year-old son Wilson Bledsoe lying on the carpet playing Nintendo is reason for Clara Sybrant to give thanks.
"The first day of school or anything — I just start bawling because I might not have had that moment," Sybrant, a Tonganoxie resident, said. "I could have lost him before he was a year old. That's always in the back of my mind."
On his first birthday 10 years ago last week, Wilson completed chemotherapy for a neuroblastoma cancerous tumor that developed on his right kidney. The end of treatments concluded a nearly five-month ordeal that also had Wilson undergo surgery to remove the kidney.

A long surgical scar across his upper abdomen and a smaller pockmark on his chest that marks the spot of a stent inserted for chemotherapy are physical reminders of Wilson's early fight for survival. He was declared cancer-free in December 2001, with the only aftereffects being a childhood asthma he outgrew and mild digestive problems caused by scar tissue on his intestines from the surgery.
But his mother knows the outcome could have been much different. Eighty percent of childhood cancers are discovered once tumors have metastasized to stage 3 or 4 (Wilson's was stage 3), compared with just 20 percent in adults, and 1 in 5 children diagnosed dies from cancer.
Helping Wilson overcome those odds was the skepticism of his step-grandmother Sandi Sybrant.
"He was sick for awhile, throwing up after feeding and wasn't having bowel movements," Clara Sybrant said. "The doctor said he had constipation and a hernia. I told my stepmom. She didn't buy it. She said it didn't sound right he wasn't having bowel movements."
On that advice, Sybrant sought a second opinion and took Wilson to Dr. Deborah Gammill in Tonganoxie. She agreed the baby's constipation was suspect and needed to be checked out.
A subsequent scan at Children's Mercy Hospital found a softball-sized tumor on Wilson's kidney, which was putting pressure on his internal organs.
"Because I had other family members pass away from cancer, my first thought was, 'I'm going to lose my son,'" Sybrant said. "When they first told me, they did say they caught it early enough. The doctor said when caught early, he had never seen a relapse."
The kidney was removed Aug. 1, 2001, and soon after she and her then-husband, Jason Bledsoe, discovered how much fight their son had in him, Sybrant said.
"We were staying at the Ronald McDonald House when we got a call," she said. "He was lightly sedated but standing up in his crib. He'd ripped everything (IVs) out. He had just lost an organ, and he was standing in his crib."
It was a fighting spirit he would need during the chemotherapy that followed.
"For me, it was a nightmare," Sybrant said. "I didn't realize how bad chemo affected someone. I would clean him up from vomiting, and an hour later I would have to do it again. I had to tell the nurses I had to get out. It hurt me to see him like that."
During his treatments at Children's Mercy, his room became something of a gathering place for other older children undergoing chemotherapy whose parents weren't from the metropolitan area and thus couldn't spend as many hours at the hospital, Sybrant said.
Although some in his family want to move past the traumatic memories of Wilson's difficult first year, she and Wilson have maintained that connection to other cancer patients and survivors, Sybrant said. They first got involved with Relay for Life and then Braden's Hope, a foundation dedicated to increasing awareness and raising funds for childhood cancer research. It is named for Braden Hofer, who is currently undergoing chemotherapy a second time for neuroblastoma.
"The foundation was started by his mother, who learned she had stage 2 breast cancer when Braden was first diagnosed," she said. "She went on the Internet and was amazed how much she could find out about her cancer but how little was out there on childhood cancers."
Wilson, now a fifth-grader at Tonganoxie Middle School, is part of those fundraising efforts. His picture with Kansas City Chiefs linebacker Tamba Hali is part of a 2012 calendar the foundation is selling. It can be purchased at Harvest Moon Natural Foods in Olathe or at bradenshope.org.
Football is one activity Wilson won't pursue because of the loss of a kidney, although he is active in sports.
"I'm actually kind of good at sports," he said. "I play soccer and I'm going to play winter basketball."
Her active son is an example for other families dealing with the diagnosis of a child's cancer, Sybrant said.
"We just want other families to know there's hope," she said. "Never give up, and there is support out there from you.
"I'm certainly available to answer any questions someone would have."
One other factor plays into their activism, Sybrant said. Her stepmother, who played such a central role in Wilson's story, died recently of cancer, as did one of Wilson's grandfathers. Their loss has reinforced Sybrant's determination to take her life-saving message to others.
"Never be afraid to get a second opinion," she said. "Because of his grandmother, that's the reason he's here. She was the reason we get to celebrate a Thanksgiving with him, because she did not agree with the doctor's diagnosis of constipation and a hernia."