Ready to break through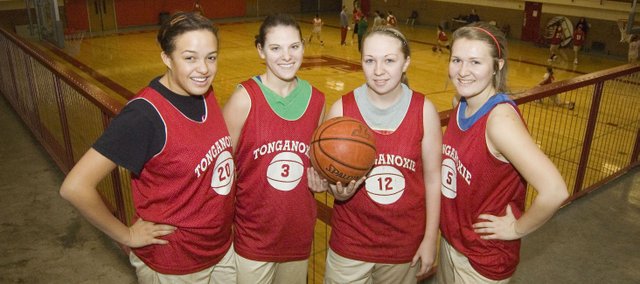 The name of the game is not horseshoes, but the Tonganoxie High girls basketball team was oh-so-close to adding several games to the win column last year.
The Chieftains finished the season 9-12, but seven of those defeats were decided by six points or fewer. Of those losses, four were by three points or fewer.
Sure, close doesn't magically change Tonganoxie's record to 16-5, but the THS girls team is looking to take those experiences into the 2011-12 campaign and have more success in those tight contests.
"I think we'll be able to pull through in those close games," senior Amanda Holroyd said about this year's team.
Tavia Brown agreed, saying losing those close games last year will make this team more determined in 2011-12 to pull through in nailbiters.
The Chieftains certainly return plenty of experience for 2011-12, as Tayler Miles and Danielle Miller were the only seniors lost to graduation. Holroyd and Brown are two of four seniors on this year's squad, joining Haley Smith and Parker Osborne.
Smith and Holroyd are returning starters at the guard position, while juniors Jenny Whitledge (guard/forward) and Hannah Kemp (guard) are the other returning starters. Whitledge was the top scorer last year, averaging more than 14 points. Smith averaged 6.5, Holroyd near 6 and Kemp nearly 5 in 2010-11.
Returning subs this year are junior guard/forward Madee Walker, sophomore forward Emma Stilgenbauer and sophomore Katelyn Waldeier, as well as Brown, who is a guard.
The Chieftains could be in line to win their first Kaw Valley League title since 2007, the last of four straight at the time. As Smith pointed out, the team competed well in summer-league ball, winning against many KVL teams it will face this winter.
THS coach Randy Kraft enters his 10th season leading the Chieftains. He's compiled a 142-63 record in Tonganoxie and is 321-248 overall in 26 years.
Like his players, he thinks his team can take last year's experiences and get over that hump of finishing games. He also noted the team has depth and is balanced.
"It has been good," Kraft said about the first week of practice. "We have a lot of returning players."
The Chieftains start the season Friday, Dec. 2, with a big home game against rival Basehor-Linwood, which placed third at the Class 4A State tournament last season.