Bulldog stability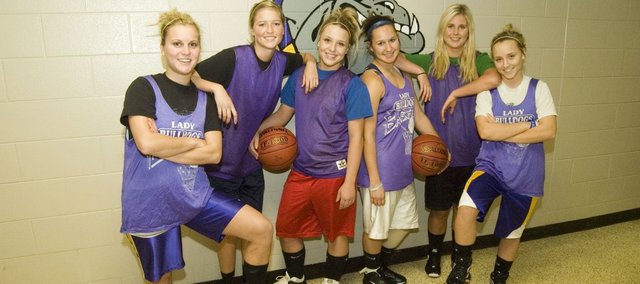 McLouth — McLouth High girls basketball players had one less thing to worry about in preparing for a new season when practice started earlier this month: adjusting to a new coach.
The Bulldog senior class has had three coaches in as many years, but the team will have the same coach this year with Gina Durkes returning for her second season in McLouth.
Durkes welcomes back five returning seniors in Terri Stewart, Morgan Drinnon, Cheyenne Wisdom, Kendra Leach and Kami Wisdom. Fellow senior Rakel Jensen, a foreign exchange student from Norway, also is on this year's squad.
Stewart has been playing at the varsity level throughout her career at MHS, Durkes said, while junior Kailtyn Holinger is expected to be another major component of this year's squad. The Bulldogs are thin on height, but Holinger provides a presence inside.
Durkes said she likes her teams to play up-tempo basketball, which could be especially important without the luxury of a lot of height. With a year of that style under its belt, Durkes said the team has started out preseason practice pretty well.
"Not bad," Durkes said about her team's practices in the early going. "Still pretty chatty, but that's to be expected."
The Bulldogs finished 3-18 in 2010-11, but Durkes looks for her team to make strides. She expects Jefferson County North to be the heavy favorite in the Delaware Valley League, she said, but she is eyeing a climb in the standings this season.
Stewart expects MHS to be in a better position this season as well.
"I think we'll be able to compare to all of them," Stewart said, though she said JCN might be a different story because of the Chargers' returning talent.
Last season, the Bulldogs seemed to often hit a wall in the third quarter and run out of gas in the fourth. That will be a point of emphasis for this year's squad.
That shouldn't be a problem this season, as the team seems to be in a better position, senior Kami Wisdom said.
"We're more focused this year," Wisdom said.
The Bulldogs open the season Friday at home against Word of Life.