Chief wants uniform
U.S.

24-40 speed limit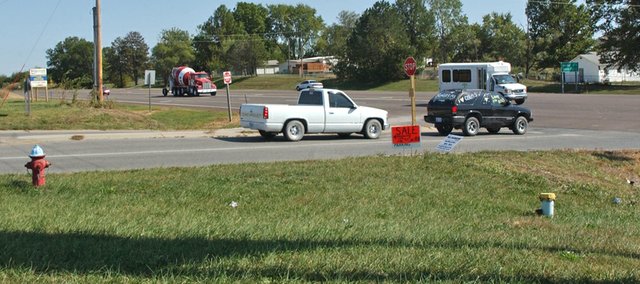 With fresh evidence of the danger and armed with a recommendation from Police Chief Jeff Brandau, Tonganoxie Mayor Jason Ward will write a letter officially requesting that the Kansas Department of Transportation lower the speed limit to 45 mph on U.S. Highway 24-40 on the city's east side.
Last month, Ward instructed Brandau and Fire Chief Dave Bennett to make a recommendation on speed limits on the east side after the Tonganoxie City Council came to the consensus that decreasing the speed limit was the best way to improve traffic safety on that portion of U.S. 24-40. That opinion was reached after the council agreed to pass on an opportunity to apply for a KDOT grant, which would have provided up to $2 million to make safety improvements to highway intersections at Laming Road and Stone Creek/South Park drives. The council made that decision out of concern about the associated cost to the city of an estimated $285,000 and of predicted harm to Stone Creek businesses.
On Monday, Brandau said it would improve safety and make for easier enforcement if speed limits on the highway were 45 mph on the east, as they are on the city's south side. He said he couldn't justify the change to KDOT on a scientific basis but added KDOT should find reasonable matching the speed limit it placed on traffic at the south city limits.
"Logistically for us, it would be easier if it were 45 mph all the way through town except for the 35 mph in the business zone," he said. "Logistically, it would just be easier."
The Stone Creek/South Park intersection on the highway would probably remain the city's most dangerous because it was the city's busiest, Brandau said. But lowering the speed limit to 45 mph to the east of the crest of the hill coming into town would make those accidents — such as the wreck that injured five Nov. 23 at Stone Creek Drive — less violent, Brandau and Bennett agreed.
Brandau said any appeal to KDOT should also emphasize the added traffic at the intersections from commercial and residential development in the area since the current speed limit was put in place.
Ward said he would now write a letter to KDOT requesting the change, thanking the two chiefs for their input.
"I wanted to hear from these guys. I know they aren't traffic engineers but they are our best resource," he said. "Now, I'll get in touch with KDOT. I'm sure they've heard about this, but I'll send a formal letter."