Local family to offer light display again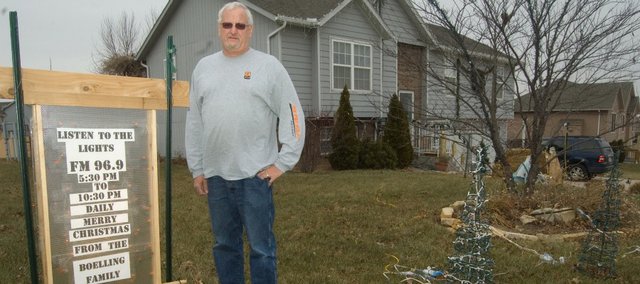 Ross and Lynnette Boelling again will have a Christmas light show at their home, 600 Hidden Valley Dr. in Tonganoxie.
The light display show in the couple's front yard runs from 5:30-10 p.m. Sundays through Thursdays and 5:30-11 p.m. Fridays and Saturdays during the holidays.
Boelling said there would be some new songs and new additions to the show this year. The lights will be on display through New Year's Day.
Visitors can park along the street and tune their vehicle radios to 96.9 FM to listen to the music that coincides with the light show.
The Boellings live in the Stone Creek subdivision, which is just north of U.S. Highway 24-40 near the Stone Creek retail center that includes the Fastrax convenience store. The Mirror featured the Boellings in a story last Christmas.