Sights set high
With several players returning,
MHS

boys are eyeing big campaign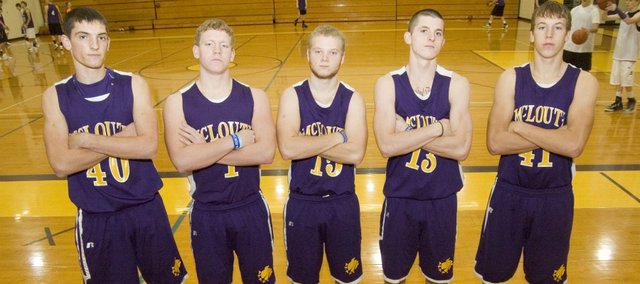 The McLouth High boys basketball team appears to have depth and experience on its side entering the 2011-12 campaign.
The Bulldogs return three seniors, two of whom were starters on a team that went 8-13 this past season. The team also has three juniors who all started at some point in 2010-11. Throw in two sophomores who started at some point, and that's eight players with starting experience from the previous season.
"Look at the schedule," MHS coach Jason Schroeder said. "If we show up and play every night, there's not a game we couldn't win. I expect to improve on a seventh-place finish in league and challenge some teams this year."
Schroeder said speed and experience would be strengths on this year's team.
Senior Calvin Booth expects this year's squad to be improved from a year ago with all the returners. He likes the Bulldogs' guard ability, as well as his teammates who play inside.
"Our posts are pretty smart down low," Booth said. "They know how to get themselves open."
Booth is joined this year by fellow seniors Shawn Dailey and Gavin Swearngin. Fellow seniors Tim Coulter and Cody McHenry also joined the team this season.
Returning juniors with starting experience are Marc Walbridge, Carter Gish and Dakota Cop, and sophomore Nick McAferty returns, as well.
The Bulldogs made strides in the win column last year and will look to build on that total again in 2011-12. To do that, MHS will need to win some of those close games that eluded the Bulldogs a year ago.
"We look to finish those out," Dailey said, also noting the Bulldogs were getting back into basketball shape in the preseason.
Swearngin added that expectations are high for the team as it looks to improve on the previous season.
As the Bulldogs prepare for their first game of the season — Friday at home against Word of Life — Schroeder said he's working to implement a few more plays defensively.
"We're trying a few new things on defense the next three days," Schroeder said Monday. "We're working out the kinks on a few things."
And though the Bulldogs have substantial experience returning, assistant coach Perry Lockwood cautioned that there are players with less experience who need to be vital components.
"We have a lot of people coming up from JV," Lockwood said. "We've got to mesh. As soon as we figure out how to mesh, we'll be a team that can compete with anybody."
McLouth's schedule changes slightly this season, as the Bulldogs won't be making the long trip to the Marmaton Valley tournament in Moran. Taking the place of those tournament games are contests against Word of Life, Olathe Heritage and Atchison High.