Storming the castle
Madrigal Feaste celebrating 10 years, to have two royal couples for this year's festivities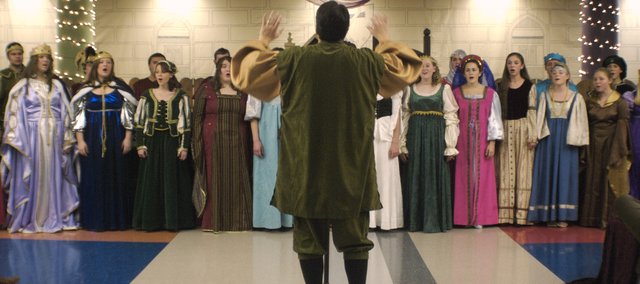 It literally will be a banner year for the upcoming installment of the Madrigal Feaste.
The annual event is celebrating its 10th anniversary with a parade of banners that longtime organizer Carolyn Day has made. Each one commemorates a special event that happened each year at the show.
Photos online and more
• Look for photos from the Madrigal Feaste dress rehearsal later this week here at tonganoxiemirror.com.
• And for more notifications about the Feaste, "like" The Mirror on Facebook at facebook.com/tonganoxiemirror, and "follow" us on Twitter at twitter.com/tonganoxie.
• Also, tickets for the Madrigal Feaste can be purchased by calling THS at (913) 845-2654. Tickets are $15 each.
"They are truly fantastic," Tonganoxie vocal director Tom Gifford said about the banners.
Day, Connie Torneden and James Torneden will be honored for working to put on the event in each of its 10 years.
The Madrigal Feaste, which starts at 6:30 p.m. Friday and Saturday at the Tonganoxie Middle School commons area, is a fundraiser for the Tonganoxie schools' vocal departments.
The Feaste is created in the spirit of the Renaissance era and is decorated to resemble the inside of a castle.
Normally there is one king and one queen, but eight seniors qualified for being the royal couple because they have been in Chieftain Singers all four years at Tonganoxie High School and were involved in vocal music at TMS. Gifford said auditions took place to break the tie. Aaron McIntyre and Taylor Clark will preside as king and queen one evening, while Nathan Dowell and Beth Jobst will take to the thrones the other night. Which royal couple will preside on which night still is to be determined, Gifford said.
THS senior Marcus Titterington will be the jester this year.
"He has to be funny, quick-witted and learn a lot of lines," Gifford said about the role of the jester. "The jester basically serves as the Master of Ceremonies for the Feaste."
Gifford said Titterington also would be a translator to help the audience understand what's going on when the rest of the cast is speaking in Old English.
The Madrigal Feaste will contain two plays, which are called "masques" in the Madrigal Dinner world. One is the re-telling of Romeo and Juliet in five minutes or less using our modern-day political climate as the backdrop. The other is a spoof on the old "Dating Game" game show.
Around 100 students will perform in the show this year, which includes the eighth-grade choir from TMS and the two high school choirs, the Concert Choir and the Chieftain Singers.
Those interested in storming the castle Friday or Saturday can contact THS at (913) 845-2654. Tickets are $15 each and are available by reservation only.