Lending hands
Tree lighting students experienced at helping out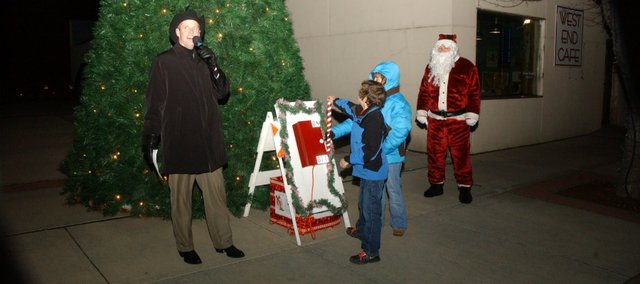 Jakob Edholm and Alex Hartpence passed on a rare one-to-one opportunity Saturday to share their Christmas wish lists with Santa Claus.
The two Tonganoxie Elementary School fourth-graders were selected to help Tonganoxie Mayor Jason Ward light the mayor's Christmas tree, an honor that earned them a buggy ride up Main Street with the mayor and Santa Claus. But neither youngster took the face-time opportunity to talk with Santa on the ride most memorable for the cold and Santa's (Tom Putthoff) near fall as he got off the buggy.
That shouldn't be surprising. Alex and Jakob earned their rides because they are givers at school.
In his remarks before the tree lighting, Ward said he asked Tonganoxie Elementary School to provide students who set the example of citizenship and volunteerism as a way to reward them and to help keep the focus of the tree lighting on community programs, such as the Mayor's Tree Project to help the Good Shepherd Thrift Shop.
Tonganoxie Elementary School Principal Tammie George said she asked the school's fourth-grade teachers each to select a boy and girl student to represent the school at the tree lighting.
"Then we did a drawing," George said of the process that led to the two students' selection. "Teachers talked about what a nice job they do in the classroom but also what they do around school to help others."
Jakob said his teacher Kylie Campbell nominated him because of the help he gave fellow students in the classroom.
"Our teacher tells us when we're done with our work we can either read or find someone you can help," he said. "When doing math, when I get a problem they don't, I just tell them so they will understand. When we were doing algebra, there was a kid who didn't get it. I helped him figure out addition by subtracting an equal number from each side to get the letter."
In nominating her, Alex's teacher, Sarah Edwards, praised her help with classroom chores.
"I help the teacher when she needs papers passed out, help her clean the classroom or help organize," Alex said.
But Alex said she also helped other students with lessons, especially in the current examination of leaves for cell structure.
"I help most times with science," she said. "We do hard stuff in class and so I to try to help them."
The fourth-graders said they weren't that exceptional, and that they were lucky their names were drawn rather than those of other nominated students.
Although neither student told Santa what they wanted for Christmas, both know what tops their lists. Alex wants attire for her American Girl Doll, and Jakob is hoping for Kansas State football gear.