Weapons aplenty
Balanced attack, options big part of McLouth's 5-0 start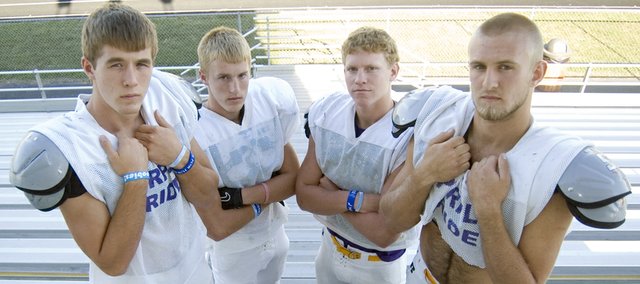 STILL TO COME
McLouth High's football team (5-0) has four dates remaining on its regular season schedule:
Friday — at Horton (2-3)
Oct. 14 — Pleasant Ridge (5-0)
Oct. 21 — Rossville (5-0)
Oct. 27 — at Silver Lake (4-1)
One sure way to test a football team is by taking away the plays and/or players upon which it relies for success.
Sooner or later, someone was bound to see how McLouth High would react to a defense designed to limit — or possibly stop — Bulldogs senior running back Shawn Dailey.
That was Jefferson County North's plan Friday night.
How did it work out for the Chargers?
Well, Dailey only ran for 66 yards, but still reached the end zone twice in a 41-6 MHS victory.
McLouth coach Chris Stewart said JCN tried to slow Dailey down by bringing eight players up in the box, making it difficult for the Bulldogs to run with their single-back, spread formation.
MHS countered and remained unbeaten by using its wealth of offensive weapons. Junior quarterback Marc Walbridge ran for one TD and passed to Tim Culter for another. Stewart said the QB ran the ball well and delivered in the passing game, going 8-for-15 with 142 yards and one interception.
Senior running back Alex Courtney also ran for a touchdown.
As senior lineman Hunter Koch put it, the Bulldogs have options.
"We feel pretty confident if you take one part of our game away, like our inside run, we can still respond and attack on the outside," Koch said.
Senior wide receiver and cornerback Cameron Humerickhouse agreed.
"Our team's really not dependent on just one thing," he said.
It also helped that McLouth (5-0) punished JCN for its mistakes. MHS took a 13-0 first-quarter lead after a snap went over the head of the Chargers' punter.
Charlie Courtney put a lot of pressure on the punter so he couldn't get to the ball. Meanwhile, Alex Courtney and Koch kept the football out of the hands of another JCN special teams player long enough for TJ Crowell to recover it in the end zone for a touchdown.
That was just one of four takeaways for the Bulldogs, who also benefited from a Drew Cerny interception and fumble recoveries by Alex Courtney and Koch.
Even though JCN managed to somewhat slow down Dailey, who now has 15 offensive touchdowns this season and scored four times in each of McLouth's previous two blowout wins, MHS dominated on the road to get its fifth straight victory by 35 or more points.
Being unbeaten at this point, with just four games left in the regular season, is significant for MHS, Stewart said.
"I think it's the fact that it instills confidence in our kids," the coach said.
The players are excited about being 5-0, too, Dailey said. But he stressed that they want that mark to be the beginning of something bigger.
"This is definitely a good start for us," Dailey said. "We've been waiting for this season since we were freshmen."
That wait, for McLouth's seniors, didn't include one winning season before 2011 as the Bulldogs went 6-21 the previous three years.
Said Koch: "It's just kind of cool to finally get some wins."
Still, Alex Courtney said they have been working a long time to turn the program around and the players and coaches had a prolonged talk Monday about what they need to do to keep improving.
"We're 5-0, but some of the teams we've played haven't been the greatest," Alex said, noting the next few weeks will be even more important. "We're really gonna start busting our butts at practice and working a little harder."
That's the message Stewart will be reiterating the next few weeks as MHS tries to make a playoff push. He said because the Bulldogs have been so dominant thus far — putting up nearly 10 times as many points as their opponents, outscoring them 243-25 — he doesn't want them to think everything will automatically work out for them.
"Overconfidence isn't the word for me," the fourth-year MHS coach said. "The word I get worried about is complacency."
Stewart thinks McLouth can maintain the level at which it has played, but admitted he wouldn't have minded if maybe a game or two had been more competitive.
"The only concern I have as a coach is a lot of the games we've had a lot of scores and played really well and you want to make sure your kids understand it's not always that easy," he said.
McLouth's closest win so far this year was its 35-point victory at JCN. Stewart said his team won't be able to avoid nail-biters as easily in the next four weeks.
"That's gonna come up here real soon," he said of closer games that are decided in the fourth quarter instead of being over by halftime. "We'll see how they respond to that type of football game."
The players seem to understand the schedule will get tougher, and Koch said they know district games, which begin Oct. 14, will be the true test for McLouth.
"Being undefeated is nice, but the focus is more on the last three teams we play," Koch said. "Those three, obviously, are most important for getting into the playoffs."
At 7 p.m. Friday, MHS plays at Horton (2-3).
McLouth 41, Jefferson County North 6
Score by quarters
MHS 13 14 7 7 — 41
JCN 0 6 0 0 — 6
Scoring
M — Shawn Dailey 3 run. Kick failed.
M — TJ Crowell fumble recovery in end zone. John Berry kick.
M — Marc Walbridge 1 run. Berry kick.
J — Derek Belveal 4 run. Conversion failed.
M — Tim Culter 26 pass from Walbridge. Berry kick.
M — Dailey 2 run. Berry kick.
M — Alex Courtney 3 run. Berry kick.