Attorney selected for Leavenworth County administrator post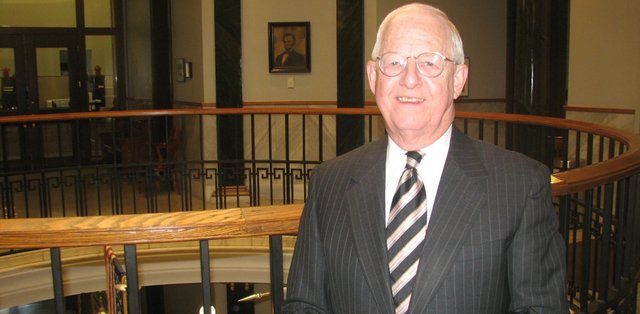 The Leavenworth County Commission ended an 11-month search for its second county administrator Thursday with the appointment of an attorney with ties to the county and 35-years of experience in state government.
The commission voted, 2-1, to appoint Patrick Hurley, 70, to the position unfilled since Heather Morgan left for a private-sector job in October 2010.
Hurley originally is from Leavenworth and currently lives and practices law in Topeka. He served in the Kansas House of Representatives from 1976 to 1980 for the 41st District. He was House majority leader in 1979 and 1980 under House Speaker John Carlin. When Carlin became governor in 1980, he appointed Hurley secretary of the Department of Administration.
Hurley said Friday he and his wife, Patricia, felt as though they were coming home.
"We've wanted to return for the past few years," he said. "We had a chance to purchase a home (in Leavenworth) before I even knew about this.
"I've never had any plans to retire. I just wanted to get back to Leavenworth. This worked out well."
He keeps up with local issues through the media and has contacts and working relationships in the county, leadership in neighboring counties on both sides of the state line and with the Mid-America Regional Council, Hurley said.
To familiarize himself with county finances, he met with the county's auditor to go over the county's budgets for the past two years, Hurley said.
Commission Chairman Clyde Graber and 3rd District Commissioner John Flower voted for the appointment, while Commissioner Bob Holland voted no, saying he was being true to his campaign promise of not hiring a county administrator.
In past discussions on the search, Holland questioned the need for an administrator and said the county was working fine without one.
Hurley was among the more than 40 quality applicants applying in the second round of the search for an administrator and one of three outstanding candidates invited back for a second interview as the search narrowed, Flower said.
What made Hurley stand out in his view, Flower said, were his ties to the county, his familiarity with state government and statutes and the experience he gained in state government.
"As secretary of administration, he has experience in budget preparation, strategic planning and all the departments reporting to him," he said. "Those are all things a county administrator has to be aware of also.
"He has all the attributes we were looking for, and he should get quickly immersed in the community."
Flower said he was particularly impressed with Hurley's experience in one of his areas of interest — strategic planning.
He has written and implemented a number of strategic plans on statewide issues over the years, Hurley said. Among those were three developed in 1989, 1999 and 2010 under his leadership with Economic Lifelines, a statewide coalition of more than 50 entities with interests in transportation, in advance for the Legislature's adoption of 10-year transportation plans.
Hurley started work Monday. During a transition period, which could last a many as 90 days as Hurley helps his current clients find other representation, he will work three days for the county at 60 percent of his $85,000-a-year salary.
Morgan was hired as Leavenworth County's first county administrator in 2008 after the commission approved a resolution creating the position. Two ballot initiatives to create position failed in 1998 and 2002.
The commission agreed to start advertising again for the position in July, just months after a first search came to an unsuccessful end. Of the top three commissioners' choices, two turned down the job during negotiations and a third accepted a job elsewhere.