Fort Leavenworth to induct class into hall Thursday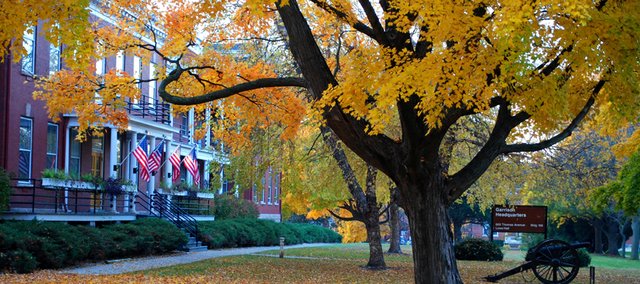 The U.S. Army Command and General Staff College at Fort Leavenworth will induct four graduates into its International Hall of Fame this week, including three chief generals and one defense minister from four different countries.
The induction ceremony will be 9 a.m. Thursday at the Lewis and Clark Center.
The inductees are: Lt. Gen. Augostino Njoroge, Kenya; Lt. Gen. Sean McCann, Ireland; Minister Vitalie Nicon Marinuta, Moldova; and Lt. Gen. Arturo Ortiz, the Philippines.
More information on the inductees:
• Lt. Gen. Njoroge, commander, Kenya Army, CGSC Class of 1985: an infantry officer who has served at all levels of command, from platoon commander to commander of the Kenya Army. Beginning his career more than 30 years ago, Njoroge has served throughout the world as a leader in his military and as a part of many coalition elements.
• Lt. Gen. McCann, Chief of Staff of the Irish Defence Forces, CGSC Class of 1990: one of Ireland's most accomplished cavalry officers, serving throughout the world, including multiple tours as a member of NATO forces. As the chief of staff of the Irish Defence Forces, he is the senior Army officer in the Republic of Ireland.
• Minister Marinuta, Minister of Defense for the Republic of Moldova, CGSC Class of 2000: has spent significant time working together with American forces, including as a member of Central Command. With his expertise in stability and other military operations, he was appointed as the Minister of Defense for the Republic of Moldova in 2009.
• Lt. Gen. Ortiz, Philippine Army Commanding General, CGSC Class of 2000: has significant operational experience, particularly in complex environments. He has more than 30 years of experience as a Special Forces officer, commanding at all levels. Ortiz is currently the commanding general of the Philippine Army.
In 1973, the Command and General Staff College, the Kansas City Chapter of the Military Order of the World Wars, and the CGSC Alumni Association — now known as the CGSC Foundation — jointly established the International Hall of Fame. Its purpose is to provide a prestigious and visible means of recognition for international officer graduates, who, through military merit, have attained one of the highest positions of importance in their respective countries' armed forces, or who have held an equivalent position by rank or responsibility in a multinational military organization.
Of the more than 7,300 international students who have graduated from the CGSC, 241 from 67 countries have been inducted to date. More than 50 percent of the college's international students go on to become general officers. The International Hall of Fame honors those who have become leaders of their country's army or military forces, who have achieved ministerial rank or who become heads of state.