Solution to busy highway intersection may be too costly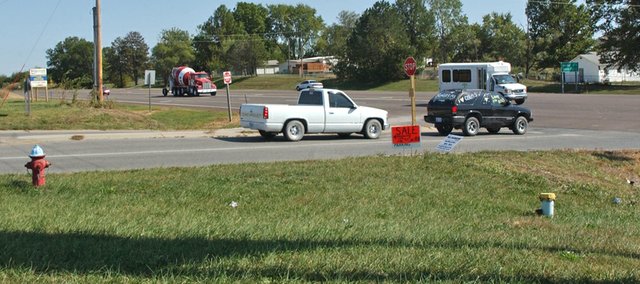 In the eight years Jeff Salmon has lived in his home on Willis Drive, he has seen traffic and danger increase at the intersection of U.S. Highway 24-40 and South Park and Stone Creek drives.
U.S. 24-40 Laming Road and Stone Creek/south park accident history
2007
Laming
Accidents, 6, injuries, 2
Stone Creek, South Park
Accidents, 3, injuries, 2
2008
Laming
Accidents, 1, injuries, none
Stone Creek, South Park
Accidents, 2, injuries, 2
2009
Laming
Accidents, 3, injuries, 4
Stone Creek, South Park
Accidents, 7, injuries, 8
2010
Laming
Accidents, 1, injuries, none
Stone Creek, South Park
Accidents, 3, injuries, 2
Source: Kansas Department of Transportation
But Salmon said the added traffic that came with the development north and south of the highway doesn't include the children in his family.
"I've got a daughter who was in an accident there," he said. "I don't let any of my children or their friends use that intersection. I make them go out Fourth Street."
Kansas Department of Transportation records show there were 11 accidents at the U.S. 24-40/Laming Road intersection from 2007 to 2010 and 15 accidents at the highway's Stone Creek/South Park intersection during that same period. Twenty of those were injury accidents.
Last week, city consulting engineer Brian Kingsley shared with the Tonganoxie City Council a possible solution to the safety concerns caused by vehicles turning across two lanes of traffic on and off the highway at a point that averages 11,500 vehicles per day.
The plan would end exits and entries across traffic by replacing the middle turn lane at the Stone Creek and South Park drives with a grass median. That traffic would be funneled to Laming Road, where a traffic signal would be installed. To make that possible on the south side of the highway, a frontage road would connect South Park Drive to Laming Road, which would be extended about 400 feet to the south from the highway.
All that work comes with a price, and Kingsley asked the council to authorize him to make application to KDOT for a grant for projects on identified corridors such as U.S. 24-40. The grant would pay up to $2 million for construction costs.
Unlike other KDOT grants, there would be no 20 percent requirement from the city. But it would be on the hook for utility relocation, right of way acquisition and project engineering. A very quick preliminary estimate from Kingsley pegged the project's construction cost at $1.45 million and the city's cost at $285,000. That figure would be refined with preliminary engineering should the council agree to apply for the grant.
A cautious city council, eyeing a nearly $300,000 expense, held off on authorizing the grant application until more is known about two other projects on its plate since late spring — a new police station and extension of utilities to the CR1 industrial park.
But the solution sounded good to Salmon, who said he wouldn't mind the added distance required to get from his home when driving east on the highway. He already loses time when turning west during morning and evening rush hours, he said.
"If I don't get up there by 6 (a.m.), forget it," Salmon said. "By 6:15 or 6:20, traffic is so backed up there. At 4 in the afternoon, it's ridiculous."
Brandon Hensley, who lives just east of South Park Drive, agrees with Salmon the intersection is dangerous. He said he has witnessed multiple accidents and many near misses while visiting a friend in a home overlooking the intersection.
But Hensley doesn't share Salmon's enthusiasm for the proposed plan. He doesn't want to drive west to Laming Road to get off the highway from the east and worries the median would hurt the three businesses in the retail development west of Stone Creek Drive.
A better solution would be to place a traffic light on the highway at Stone Creek and South Park drives and reduce the speed limit on U.S. 24-40 near the top of the hill to the east of the intersection from 65 mph to 45 mph, he said.
"It should be 45 mph when you get into town, just like it is on the west side," he said.
That solution was also popular with Ray Schiller, who works at Mary's Retail Liquor in the three-store retail development off Stone Creek Drive.
Tonganoxie City Administrator Mike Yanez said KDOT preferred the light at Laming Road for two reasons. Laming Road is just a little more than a mile from the Main Street light, KDOT favored distance between lights on the corridor.
There is also sight line concerns about placing a light at Stone Creek/South Park because of the hill to the east and the 65 mph speed limit, Yanez said.
Schiller has concerns beyond safety. The grass median would cost the store business from the South Park neighborhoods and those driving east on the highway, he said.
That's also the view of Patrick Kelly, manager of the Domino's Pizza store in the retail development.
"I think it would definitely hurt the business," he said. "(Eastbound) people might as well go on to Basehor or the Legends.
"I'll probably go to the city council meeting Monday."
Tonganoxie City Councilman Dennis Bixby was the most vocal critic of the proposal at the Sept. 26 meeting.
He said Monday he continued to oppose it because of the cost. There were a lot of nice things the city could do, and he would like to see sidewalks built along Church Street to get children off the streets during walks to and from schools. But he said it was a matter of what the city could afford.
"We don't have the money," he said. "People in elected office, I've learned, they think they have to spend money all the time or they're not doing anything. I myself think restraint is the virtue."
Increased police patrols and other measures could slow traffic near the intersections, while the proposed solution would only harm retail development that located off Stone Creek when the city decided development near the U.S. 24-40 and Laming Road could block ambulances at the Leavenworth County annex, Bixby said.
"To see those three businesses under five years old put out of business or their taxes jacked up to pay for road improvements, I just don't support," he said. "We need to be business friendly. Homes don't generate positive revenue. Businesses do."