THS

students celebrating homecoming this week, hope to 'light up Lions'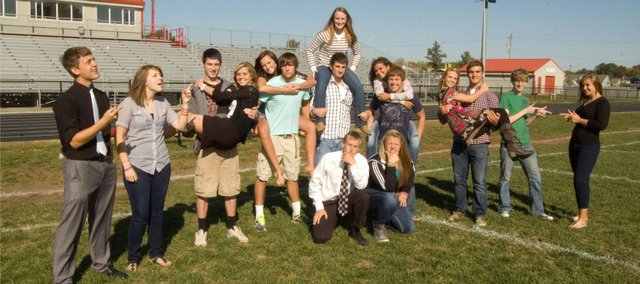 Tonganoxie High School students won't be showing much love for lions on Friday.
Lansing Lions, anyway.
Homecoming week kicked off Monday and this year's parade theme is Light Up the Lions, as THS will be taking on Lansing for this year's homecoming game. The parade will start at 2 p.m. Friday and will make its way through downtown Tonganoxie.
At the high school, each day of the week is a different dress-up day. Monday was Nerd Day and Tuesday was Throwback Day. Students dressed in fashions from the 60s, 70s and 80s.
Today is Senior Citizen Day, while Thursday is Super Hero Day and Friday is Red/White Day.
Thursday night, the return of the traditional bonfire will take place at 8:30 p.m. northwest of Tonganoxie Skate Park on the THS campus.
On Friday, the coronation of homecoming king and queen will take place at 6:30 p.m. at Beatty Field before the football game.
This year there are 16 candidates instead of the traditional 14 because there was a rare tie in voting in both counts for boys and girls.
This year's queen candidates are Eva Drennan, Shyanne Gergick, Megan Hummelgaard, Brooklyn Kerbaugh, Makayla Leslie, Chelsea Ogden, Sagan Scates and Mallory Smith.
King candidates are Matthew Briggs, Brady Field, Dallas Jacobs, Dylan Jacobs, Ryan Lynch, Jonas Myers, Marcus Titterington and Amos White.
This year's homecoming royalty will be crowned by 2010 THS king and queen Quinten Olson and Lexi Faherty.
The Tonganoxie-Lansing football game will start after the coronation at 7 p.m.
Homecoming festivities will conclude with the homecoming dance, with the theme "Don't Wanna Go Home" from 8:30-11:30 p.m. Saturday night at the Chieftain Room on the THS campus. Tickets are $7 for single or $10 for couples and are on sale during lunch this week at THS.