Owner razing old creamery in Tonganoxie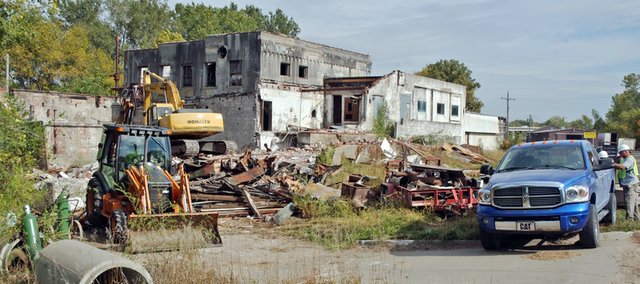 A crew hired by the owner of the old creamery on First Street started tearing down the structure Thursday, a week after the Tonganoxie City Council voted to have city staff seek bids to raze it and another condemned building.
Angell's Excavating Inc. of Tonganoxie started Thursday demolishing the old Franklin Ice Cream Corporation site at 1000 E. First Street.
On Sept. 26, the city council voted to have City Administrator Mike Yanez seek bids to raze that building and another at the southwest corner of Laming Road and U.S. Highway 24-40.
The action came 90 days after the city council declared the buildings unsafe and dangerous and after a public hearing in June at which the owners — Wanda Bjorgaard of the Laming Road property and Pete Depetre of the old creamery — could have expressed reasons why the structures shouldn't be condemned or ordered repaired. The city was free to take corrective steps or rehabilitate the buildings at the end of the 90-day period.
Yanez said Friday a city crew would tear down the Bjorgaard owned building but would seek bids to raze the old creamery.
That changed later in the day when Yanez received a call from Angell's Excavating, informing him they had been contracted by Depetre to demolish the old creamery, the city administrator said.
Yanez said he talked with City Attorney Mike Kelly about Depetre's plan and was told the building's owner was free to tear down the building at his expense.
"Bottom line, we accomplished what we wanted," Yanez said, adding it spared the city the effort of recouping the money for the building's destruction.
The city intended to hire an environmental firm to test the old creamery for asbestos before seeking bids. Yanez said he raised the possibility of the presence of asbestos with Angell's Excavating and was assured the issue was covered.
A 2006 Mirror story on the old creamery states part of the building dated to the 1880s. It first served as a canning plant and then as condenser plant in the early 1900s.
An Internet search found a notation in the July 1919 The Creamery and Milk Plant Monthly, stating Franklin Ice Cream Corporation increased the size of its Tonganoxie facility. The site was a collection point for milk and ice cream mix that would be sent to Kansas City, Mo., by rail.
Franklin left the building in 1958, and it then housed various businesses, including a paint factory and construction-related businesses, The Mirror story said.
The old creamery site is zoned for light industrial.
Yanez said the Bjorgaard family has been stripping that building of items of value and that a city crew would tear down what is left of the pole shed. The city would recover that cost from the building's owner, he said.