An improved attack
Tonganoxie soccer scoring more often at end of regular season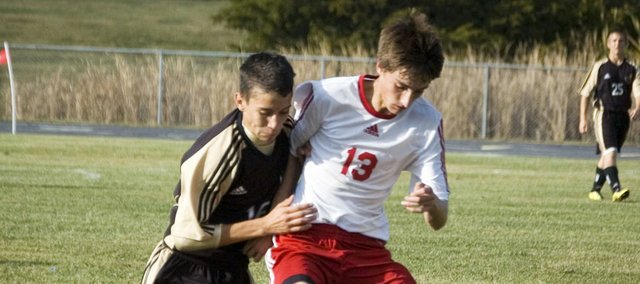 Photo Gallery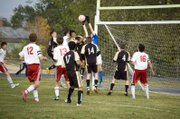 Tonganoxie soccer 4, Turner 2
Tonganoxie High's boys soccer team scored four times in the first half Monday and held on to beat Turner, 4-2, at home.
There was a point earlier this season when it would take Tonganoxie High's boys soccer team three, four, maybe five matches to score four goals.
It appears those days are gone.
The Chieftains scored four times in the first half Monday in a 4-2 home win over Turner, a team that beat them, 3-0, nearly four weeks earlier.
Tonganoxie had not defeated the Golden Bears since Brian Kroll, now a second-year head coach, first came to the program in 2008 as an assistant, so he was elated about the victory. But the Chieftains (7-6-1) have made so much progress since earlier in the season, when it took them five matches to get their fourth goal, that Kroll felt comfortable critiquing the team's play in a victory.
Though Tonganoxie won by a two-goal margin, he said the home team could have done even better.
"Our best effort, we'd have shut them out and have scored more than four," Kroll said. "But, fortunately, things just went well for us and when we went to sleep they weren't able to finish on us."
Things started going the Chieftains' way early. It was just the fourth minute of the match when junior forward Matt Saathoff passed the ball ahead to senior captain Matt Briggs as he charged from the right side and nailed the ball into the upper right corner, giving his team a 1-0 lead.
Later, in the 25th minute, Saathoff had a free kick from more than 20 yards out and smoked a low, lining shot that bent from right to left around the Turner defense and into the lower left corner to put Tonganoxie up 2-0.
Saathoff said it was nice to build a big first-half lead, which proved to be the difference in the match.
"We came out on fire, trying to finish our season strong," Saathoff said, referring to having just two matches left on the regular-season schedule.
The Chieftains remained hot through the first half and went up 3-0 on a good-looking goal by junior captain Zack Tallent in the 32nd minute. Briggs had won a 50-50 ball near midfield and pushed it ahead to the right corner as Saathoff went streaking down the middle with Tallent behind him. Briggs sent a cross behind Saathoff and Tallent leaped up to get a perfect touch with his left foot that propelled the ball into the right side for a score.
"It was a beautiful cross," Tallent said after the victory. "I couldn't ask for a better ball."
Just more than a minute later, Saathoff got an easy score in the box, shooting with his left foot to give Tonganoxie a 4-0 advantage with less than seven minutes to go in the first half.
At that point, Tallent said, the Chieftains were rolling.
"It just felt like we were finally coming together," he said. "Our passes were good, our touch was great."
Turner was able to get closer in the second half, when it picked up its aggressiveness and scored twice. But even as the Bears put more shots on goal than Tonganoxie, Chieftains goalkeeper Keaton Truesdell turned 10 of them away and finished with 14 saves, including a spectacular punch as he hurled his body to the right to thwart a two-on-one by Turner early in the second half.
Saathoff said the Chieftains recognized they could have played better against the Bears.
"We had instances where we didn't play our game," he said. "We were playing their game."
With Tonganoxie's latest win, the team has scored multiple goals three matches in a row. The Chieftains hadn't been able to do that for even two straight matches in its 11 previous outings.
Kroll is seeing progress on the field. He said now the Chieftains play like they understand exactly what he wants from them, whereas in the past they said they understood but didn't always follow that up with the proper tactics or actions.
"They actually do get it now," Kroll said. "They are paying attention. It is soaking in and they're showing that by performing with what we're working on."
At 4 p.m. Thursday, Tonganoxie will have its Senior Night at home against Bishop Ward.