Area resident set to begin antique business Saturday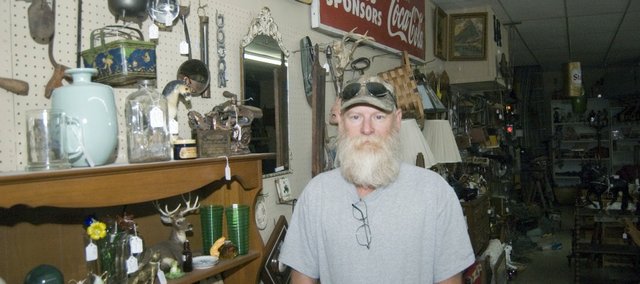 Kipp Barnett took an early retirement from his job, but he is keeping busy with a new career — one that he essentially has been working toward for 40 years.
Barnett, who retired early from Owens Corning Fiberglass in Kansas City, Kan., is opening Kipp's Treasures at 423B E. Fourth St. in downtown Tonganoxie. It's in the former Wild Horse Antiques store, which was owned by Michelle Selby.
The store opens Saturday.
Barnett said he's been collecting antiques for roughly 40 years and over the years has gone to antique shows here in Kansas, as well as in Missouri and Iowa.
"You never know what I'm going to buy," Barnett said about his antique shopping excursions.
Barnett had some items for sale in Wild Horse before starting his own business in the building. He said "99 percent" of the items in the store are his, but he plans to take furniture on consignment.
Commercial signs, such as an 8-by-5-foot one from Dairy Queen, dot the store's walls. But there are plenty of other "treasures" at the store.
"It's just a variety of everything," Barnett said. "I just a long time ago decided not to stay with one thing. If you've got a variety of stuff people might find something before they leave."
Raised in Jarbalo, Barnett lives near Winchester.
Kipp's Treasures will be open 8 a.m.-5 p.m. Tuesdays through Thursdays, 8 a.m.-3 p.m. Fridays and Saturdays and 10 a.m.-2 p.m. Sundays. The store will be closed on Mondays. Barnett can be reached at (913) 704-5037.