Cleanup applies lessons learned; citywide event is Saturday in Tonganoxie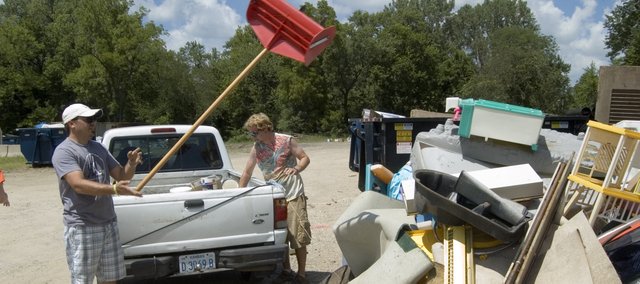 This year's Tonganoxie citywide cleanup will be new and improved because of lessons learned in the first such effort, its organizer said.
Tonganoxie City Councilman Dennis Bixby is again organizing the one-day cleanup effort as he did last year before getting elected to the council. The cleanup will be from 8 a.m. to 4 p.m. at the empty lot east of the fire station on Fourth Street. The forecast now calls for sunny weather Saturday, but the event will go on rain or shine, Bixby said.
Among the changes this year is the participation of more recyclers, which will allow residents to get rid of more trash and clutter from their homes and yards, Bixby said.
Residents will be able to rid themselves of appliances, televisions and other used electronic devices, lawn and tree debris, used motor oil, tires, household hazardous waste such as paint and solvents and, of course, usual household trash, Bixby said.
The yard waste and tree debris is to be dropped at the yard of the city shop on Fourth Street, where city crews will process it so that it can be reused by the city, Bixby said.
Residents should use common sense in regard to quantity, Bixby said.
"If you have a truckload of tires, it is better to take it to the county transfer station," he said. "The same way with paint. If you have a can or two, we'll take it, have you fill out the paperwork and give it to the county. If you have a truckload, it's better to take it to the county."
Kevin Weldon of Weldon Enterprises Inc. has committed three Dumpsters to the effort, which can each be emptied up to two times and thus allow for the collect of nine dumpsters of waste, Bixby said.
"I think we'll have a pretty good day of it," he said. "We're still looking for volunteers to help run the day."
There will be three rules in place, which Bixby said were developed from experience. Those dropping off waste will be required to document proof of residency.
That rule was in response to businesses outside of the community taking advantage of the opportunity at last year's first cleanup day to rid themselves of large quantities of paints and other waste, Bixby said.
Early dumping will also be forbidden, and the Tonganoxie Police and Fire departments will monitor the site for violations before the cleanup day, Bixby said.
Furthermore, there will be no picking through the piles of discarded items, Bixby said.
"Once it's there, it's in there," he said. "It's not fair to our recycling people to have people going through there cherry picking the cream of the crop."
Before the first cleanup day, Bixby attempted to organize teams to compete to cleanup different sections of town. The idea got little traction and has been dropped.
"Nobody seemed to care about that," he said. "We did have people pick up for those who couldn't get down there or who would be away. At the end of the day, everybody was so happy to have the town cleaned up, that really didn't matter all that much."