Lifetime learner among 6 inductees to
USD

464 Hall of Fame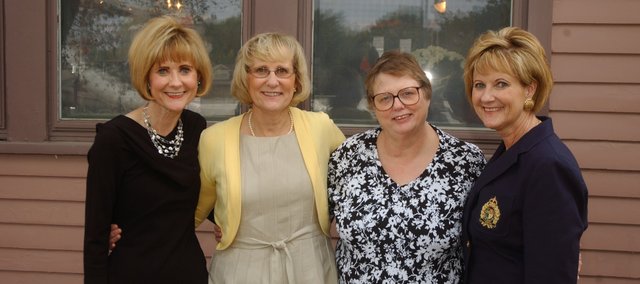 In 1944, Jean Morgan decided her immediate future belonged in Tonganoxie because its bus stop offered a direct connection to Kansas City, Kan.
Sixty-seven years later, in one of those serendipitous occurrences that happen in small towns, her four daughters — Nancy Hoglund, Kansas City, Kan., Sandy Adams, Virginia Beach, Va., Leslie Hubbel, Basehor, and Barb Watson, Colleyville, Texas — attended a gathering at the site of that old bus stop as Jean Morgan Harman was inducted posthumously into the USD 464 Education Foundation Hall of Fame.
As Hubbel explained, her mother took her first job as a teacher in the fall of 1941 in Beatty after graduating from Kansas University. Every weekend, the dutiful daughter rode buses to her parents' Kansas City, Kan., home. It was a trip complicated by the connections she had to make along the way and the difficulty buses had with staying on schedule.
After she started teaching in Tonganoxie, Morgan continued to take a much shorter and more direct bus ride each weekend to visit her parents, until one Friday in 1945 she chose to stay for the homecoming dance. There, she met Tonganoxie dairy farmer Gordon Harman.
The courtship that started that night led to marriage, four daughters and assured Jean Morgan Harman's 38-year teaching career in all levels of Tonganoxie schools. On Friday at the Myers Hotel, the same place Jean Morgan would catch the bus to visit her parents, her four daughters celebrated that career and the aspects of their mother's character and professionalism that made her a hall-of-fame choice.
In that, they were joined by a roomful of guests in attendance to honor Harmon and retired teacher Phil Jeannin, custodian and bus driver Don Conrad, bus driver and library para Myrle Leavitt, board member Mildred McMillion and alumnus and school supporter Arthur "Bo" Himpel.
One of those attending, Jim Grinter, a 1954 Tonganoxie High School graduate, told Adams of the impression her mother had made on him.
"I was scared of your mother," he confessed. "She was very strict and expected her students do assignments and behave to a code of conduct not written down anywhere but understood."
It was a part of her teaching style that her daughters experienced when they passed through her classroom, Hubbel said.
"I knew when my mother said, 'Turn around and be quiet,' you better turn around and be quiet because she meant it," she said.
But that was only one side of their mother's approach to education, her daughters said. In addition to discipline, Harman brought a willingness to try new things to the classroom and to her life, they said.
"She got into computers when they first came out," Watson said. "She was writing computer programs when I started teaching."
Harman continued to stretch herself by taking classes at KU and reading endlessly, her daughters said. She would eventually start the district's Title 1 reading program after receiving her master's degree in special education from KU.
In her remarks at the gathering, Adams, the other teacher among the four daughters, recounted a story of her and her sisters running to tell their mother of a snake that scared them from the porch of the family home. Far from being frightened, their mother approached the snake with a notebook and encyclopedia in an effort to identify it.
Her commitment to learning continued to her death.
"My mother died early so she didn't really get a retirement," Adams said. "But her plans were to take writing and astronomy classes when she retired."
Also central to her approach was a belief every student had potential. That included the special education students Harman taught in the final phase of her career, who she insisted leave school with the ability to balance a checkbook and fill out a job application, Hubbel said.
In his remarks Friday, Education Foundation President Ken Mark said Harman found and nurtured something in the introverted child he was as sixth-grader in her classroom.
"She brought me out of my shell," he said. "I won the sixth-grade spelling bee that year. I wouldn't have done that without her."
Watson recalled another incident that illustrated her mother's faith in students and their ability to change for the better.
"I can remember when our mailbox was vandalized and our TV was stolen," she said. "We knew right away who did it. Mom was more concerned about changing the behavior than about our personal property. I remember she thought it could be used to make a difference."
Harman's daughters and their families obviously enjoyed the honor given their mother last weekend. In a way it was an extension of the praise the sisters heard as youngsters for their mother.
"It wasn't so much my peers and the adults," Adams said. "She had taught here so long, so many adults in the community would comment on how she was a great teacher."