Rachford's 1st-place finish helps
THS

win

PRHS

meet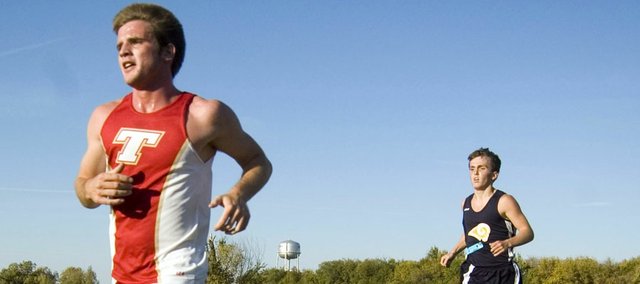 Photo Gallery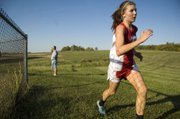 THS cross country at Pleasant Ridge Invitational
Tonganoxie High's cross country teams ran Thursday at the Pleasant Ridge Invitational, where the THS boys won a team title and the girls finished second.
Easton — Tonganoxie High senior cross country runner Patrick Rachford couldn't help but remember a recent second-place finish as he ran Thursday at the Pleasant Ridge Invitational.
It had been a week since he had been runner-up at Maranatha Academy and, in the midst of trying to beat PRHS runner Tony Weber on his home course, Rachford thought about how his approach hadn't worked seven days earlier.
Instead of pushing himself to gain separation, Rachford kept Weber nearby and had enough energy left at the end to take first place, helping THS to a team title.
"The whole entire time, I wasn't exhausted," the senior said after crossing the finish line at the 16:39 mark. "I could hear his breathing, and he was breathing way deeper than I was."
Rachford said he felt as though he could have gone harder at PRHS but instead managed his exertion.
"I wanted to run a smarter race and just stay with him," he said, adding he had been too far ahead in his second-place finish at Maranatha and his opponent caught him in the final 100 meters.
The senior's savvy approach worked. With Weber constantly in his presence, Rachford waited until the final 200 meters to pull away.
"I don't want to look back, but I could see his shadow near me as we went around the football field," Rachford related. "I felt like I should pull away, 'cause I heard his coach telling him this was where he should be (pulling away). So I listened to other people's instructions to figure out what I should do."
THS was able to finish first in the team standings thanks to some of its other runners crossing the finish line in the two minutes following Rachford's win. Seniors Dalton Harrington, sixth, and Caleb Himpel, seventh, finished in the top 10 while Garrett French was 14th and Clayton Himpel took 15th.
Tonganoxie coach Phil Williams said he thought the team had a strong showing at PRHS.
"I felt both Himpel boys, Caleb and Clayton, had their best races so far, along with Brad Andrews (who set a new personal record)," the coach said.
The Pleasant Ridge race marked the end of the regular season for the Chieftains. Rachford said he and his teammates are looking forward to the Kaw Valley League Meet (4:30 p.m. Thursday, at Pierson County Park, Kansas City, Kan.) and their Oct. 22 regional.
The THS senior said the team's training had gone down in miles of late but the runners had kept their intensity high.
"This week I felt fresh, like a new runner," Rachford said. "So I'm hoping I can reach a new peak come state or something."
Pleasant Ridge Invitational
Thursday at PRHS
Boys 5K
Team scores: 1. Tonganoxie, 41; 2. Basehor-Linwood, 52; 3. Jefferson County North, 56; 4. Pleasant Ridge, 99; 5. Atchison, 132; 6. McLouth, 166.
THS results: 1. Patrick Rachford, 16:39; 6. Dalton Harrington, 17:54; 7. Caleb Himpel, 17:57; 14. Garrett French, 18:21; 15. Clayton Himpel, 18:21; 19. Asher Huseman, 18:40; 21. Brad Andrews, 18:47.
MHS results: 29. Ryan Bristol, 20:16; 35. Logan Hoobler, 21:20; 41. Nic Bair, 22:33; 43. Sam Rainey, 24:08; 44. Jonathon Wright, 24:10; 46. Lucas Strouhal, 25:50.