Thrift and gift store opens in downtown Tonganoxie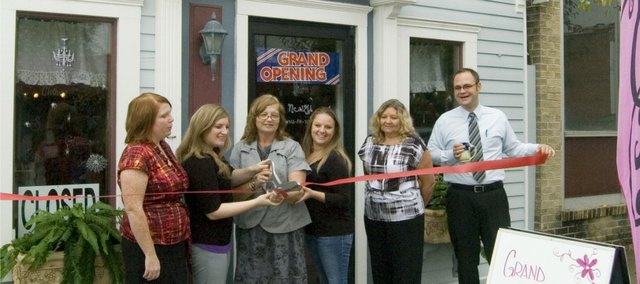 Tammy Kalebaugh has a penchant for searching for bargains.
Now, she's hoping shoppers will find some great buys at New2U Thrift and Gift Boutique, a store she and her daughter Erin Kalebaugh have opened in downtown Tonganoxie.
Gently used clothes, jewelry, greeting cards, holiday items, purses and pottery are some of the items available at the store, which is just east of the former post office at 528 E. Fourth St.
"It's a unique shopping experience and will not empty your wallet," Tammy Kalebaugh said Monday, the first day of the operations for the business.
There even is a "man cave" in the back area of the store with items geared more toward men.
Kalebaugh, who lives in Basehor, worked for a publishing company for 21years before her position was eliminated. Now, she's starting out in an entirely new vocation, but one she's hoped to do for years.
"I've always dreamed of doing this," Kalebaugh said. "And I love to make old things new. I love old things; I love new things."
Her daughter Erin Kalebaugh of Overland Park, formerly a cake designer, left that line of work to assist at her mother's store. She also has some artwork for sale at the store and can do custom work, she said.
Changing careers can come with some apprehension, but Erin said she's ready to gauge what items the community wants to see the store carry and adapt if need be.
"It's a bit scary, but I think we'll do well," Erin said.
Tammy is no stranger to downtown Tonganoxie. She said her grandparents, Ed and Cleo Cleavinger, operated Cleavinger Liquor at Fourth and Main streets, which now is home to Wirenuts.
The boutique is open 10 a.m.-6 p.m. Mondays through Fridays and 10 a.m.-2 p.m. Saturdays.