THS

football hopes to find 'new life'
Chieftains begin district play Friday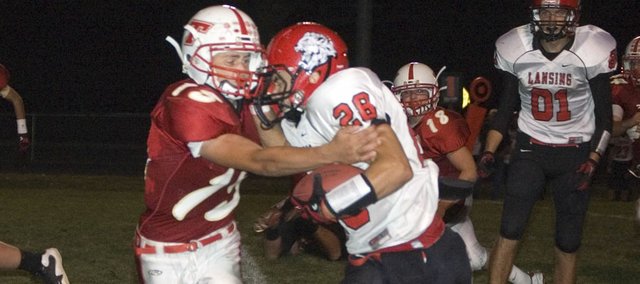 THS DISTRICT SLATE
Friday — Perry-Lecompton (5-1)
Oct. 21 — at Basehor-Linwood (6-0)
Oct. 27 — at Jeff West (3-3)
If the Tonganoxie High football team is in need of some good news to offset the bad that has come with five straight losses, it might have its answer in the hope provided by the start of district play.
Though the Chieftains lost, 37-7, Friday at Beatty Field against Lansing, the players and coaches are happy the next three weeks will be district games, because they view this stretch as the most important part of the season.
THS may be 1-5 with four straight losses of 30 or more points, but none of that will matter if it is somehow able to string together some district victories.
Though losses have mounted since the team's season-opening win, apparently the setbacks have not sucked the life out of the Chieftains. Tonganoxie interim coach Matt Bond said the team's struggles have not led to them giving up on this season.
"These are kids that are young men, 15, 16, 17 years old. They're resilient," Bond said. "We go home over the weekend and try to let it (a loss) go and come back the next week ready to roll."
Senior defensive end Dallas Jacobs admitted the team's losing streak has been frustrating, but he agreed with Bond's statements.
"Of course we're tired of it, but we're just trying to get better in practice this coming week and just try to change that," he said.
District play begins for THS at 7 p.m. Friday, when the Chieftains play host to Perry-Lecompton (5-1). Tonganoxie will have to beat the Kaws and either Basehor-Linwood (6-0) or Jeff West (3-3) if it wants a shot at the postseason. Although that might appear to be a difficult road for a one-win team, Bond said Tonganoxie will do its best to make that happen.
"We're gonna take it one at a time and all we've got to do is get two — you get two wins and you're in," he said. "You have new life, you get to play into November.
"It's gonna be a challenge, but our kids will be up for the challenge to play Perry, and then we'll worry about the rest after that."
THS sophomore running back Shane Levy said district play gives the team a tangible goal.


"We have nothing to lose," Levy said. "That's what we're gonna look for at practice and then the next three weeks give it the best we have."
Jacobs said some late-season success would wipe out the Chieftains' recent struggles.
"We're basically looking at it as nothing else matters," Jacobs said of district games. "If we go out there and win two or three of them, next thing you know we're in the playoffs."
After Tonganoxie's loss to Lansing, Bond said the team discussed the district schedule and how commonplace it is to see a struggling team catch fire.
"You've got teams that are 0-5, 1-6 — and you see it all the time throughout the state classifications — that will go in and they play the underdog role and get a couple of wins," Bond said, "and they sneak in and ruin someone else's season.
"That's what we've got to do," he continued. "We've got to embrace it and go with it. Shoot, we don't have any pressure on us. Our kids believe that they can do it and our coaching staff does, and that's all that matters."