THS

girls set personal records, take 2nd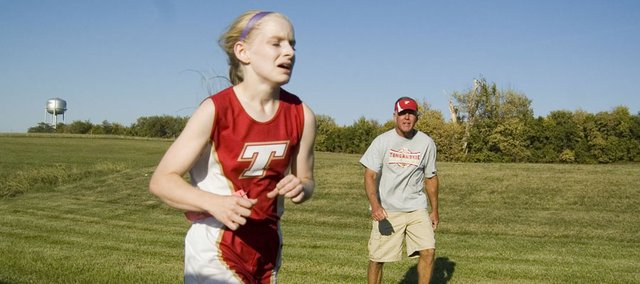 Photo Gallery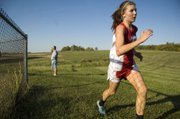 THS cross country at Pleasant Ridge Invitational
Tonganoxie High's cross country teams ran Thursday at the Pleasant Ridge Invitational, where the THS boys won a team title and the girls finished second.
Easton — Tonganoxie High's girls cross country team finished second Thursday at the Pleasant Ridge Invitational, but there was no shortage of success for the runners.
Chieftains coach Phil Williams was quite pleased with the team's showing, which featured personal records from Tressa Walker (fifth place), Taylar Morgan (ninth) and Halston Field (10th).
In fact, if it hadn't been for the presence of Basehor-Linwood — one of the top 10 Class 4A teams in the state, in Williams' opinion — THS would have won the event easily.
"Our girls competed very well against the Bobcats, and if it weren't for their top two (runners, who finished first and second), we would have beaten them," Williams said. "Their top two make them very tough."
After finishing 12 points behind BLHS in the team standings, Walker said she and her teammates liked the PRHS course.
"It was pretty easy in some spots, but the wind really took a toll on us," she said, noting they "really had to kick it in gear" at times.
The runners' efforts were appreciated by their coach. Williams noted three runners still pushed themselves despite a very busy — and tiring — week. Morgan and Field are on the THS dance team and they had practice early each morning this past week to prepare for homecoming.
"If you saw their dance Friday night, it was extremely fast and required a lot of energy and conditioning, so I was very pleased with their outcomes Thursday evening," Williams said. "They had to be exhausted."
Amanda Shepley, who finished 22nd at PRHS, had to be tired, too, her coach said, because she works hard as a member of the THS cheerleading team.
Making Thursday even more challenging for Morgan was an upset stomach that had bothered her all day. She warned Williams before the race that she felt like she might vomit at any time. The coach told her she didn't have to run, and could drop out if she thought it would be necessary.
Instead, she finished the race in 17:26.
"I was very surprised at how well she did, although she did throw up afterwards," Williams said. "I was very proud of her effort."
The PRHS event was the Chieftains' final meet of the regular season. Up next for THS at 4:30 p.m. Thursday at Pierson County Park, in Kansas City, Kan., is the Kaw Valley League Meet.
Walker said the runners think they can continue to get better — as they have steadily improved this season — with the start of the postseason.
"I really think we can be really successful," she said. "We usually run in a pack and us getting closer and closer to the front has really helped us."
Pleasant Ridge Invitational
Thursday at PRHS
Girls 4K
Team scores: 1. Basehor-Linwood, 35; 2. Tonganoxie, 47; 3. Pleasant Ridge, 74; 4. Jefferson County North, 78; 5. McLouth, 143.
THS results: 5. Tressa Walker, 17:12; 9. Taylar Morgan, 17:26; 10. Halston Field, 17:30; 13. Emma Stilgenbauer, 17:37; 14. Emily Williams, 17:38; 15. Alissa Donnelly, 17:40; 22. Amanda Shepley, 18:21.
MHS results: 26. Kendra Leach, 19:10; 28. Kayla Steffey, 19:27; 31. Kayla Blevins, 20:06; 36. Rachel Jensen, 21:03; 38. Jordyn Johnston, 21:32; 39. Kaitlin Oliff, 21:38; 40. Destiny Mestagh, 23:11.